HPE R4W02A Instant On AP22 [RW] 1774 Mbit/s Power over Ethernet [PoE] White Indoor Access Point

[R4W02A]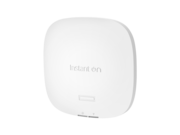 Ez is érdekelheti:
Ár
:
74 188,- Ft
(58 416,- Ft + Áfa)
Ár
:
70 789,- Ft
(55 739,- Ft + Áfa)
Ár
:
65 889,- Ft
(51 881,- Ft + Áfa)
HPE szerver beépítő sínek
Ár
:
5 090,- Ft
(4 008,- Ft + Áfa)
EN 60601-1-1 and EN 60601-1-2 (for deployment in medical environments) Wi-Fi Alliance certified (WFA) 802.11ax with (Wi-Fi 6), WPA2, WPA3
Aruba Instant On AP22 Indoor Access Points offer a reliable, affordable, and business-grade 802.11ax Wi-Fi experience for high performance, high-density small business environments like hotels, restaurants, and professional offices. Supporting Wi-Fi 6 standard, these access points have a peak data rate of 1.2 Gbps and scale up to 25 access points, without additional cost and complexity. For use in those countries and regions where no specific regulatory domain is required.
Power over Ethernet (POE): 802.3af (class 3) DC power (12V) Note: Power sources are sold separately
The access point ships with a white mount clip that can attach to both wall and ceiling. You can also purchase a mount (R6P90A) that matches the aesthetic design and looks of the APs, to blend seamlessly into your environment.
(1) uplink Gigabit Ethernet port, with POE-in support (802.3af)
Max power consumption (worst-case): 10.1W (PoE), 8.8W (DC)
https://www.hpe.com/h20195/v2/gethtml.aspx?docname=a00094637enw
https://www.hpe.com/h20195/v2/GetDocument.aspx?docname=a00094637enw
Dual Radio for simultaneous dual-band operation 5 GHz 802.11ax 2x2 MIMO for up to 1.2 Gbps wireless data rate, with Multi User MIMO support (Wi-Fi 6) 2.4 GHz 802.11ax 2x2 MIMO for up to 574 Mbps wireless data rate (Wi-Fi 6)
Aruba Instant On 1 Year warranty with 24X7 phone support for first 90 days and chat support for the entire warranty period. Community support as long as you own the products.
Integrated down-tilt omni-directional antennas for 2x2 MIMO with peak antenna gain of 4.3dBi in 2.4GHz and 5.6dBi in 5GHz (of the effective, combined pattern for both antennas in each band).
Aruba 3 Year Foundation Care Next Business Day Exchange Instant ON Access Point Service (HK1Y0E)
Értékeléshez, kérjük jelentkezzen be!
---
Még nincs értékelés a termékhez!