HPE P19561-B21 ProLiant DL160 Gen10 4208 1P 16GB-R 4LFF 500W PS Server

[P19561-B21]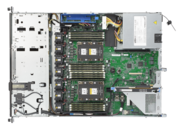 Processzor: Intel® Xeon Scalable 4208
Telepített memória: 16 GB
Maximális memória: 1.0 TB
Memória féróhelyek: 16
Kiszerelés: 1U

HP szerverkezelő szoftverek
HPE biztonsági modulok
HPE keretek, házak
HPE szerver beépítő sínek
HPE szerver merevlemezek, optikai meghajtók, kártyaolvasók, meghajtó rekeszek
HPE szerver processzorok
HPE szerver RACK kiegészítők
HPE szerver RAID vezérlők
HPE szerver Riser KIT-ek
HPE szerver tápegységek
HPE szerver, SCSI, SAS kábelek
HPE szerver, Switch, Smart Array Controller memóriák
HPE tápvezetékek, tápkábelek
Technology Services
3 PCIe 3.0, for detailed descriptions please reference the QuickSpecs
None ship standard, 4 LFF drives supported.
HPE iLO Standard with Intelligent Provisioning (embedded), HPE OneView Standard (requires download), Optional- HPE iLO Advanced, and HPE OneView Advanced (require licenses)
HPE embedded 2-port 1 GbE Ethernet adapter
1 HPE 500W Flex Slot Platinum hot plug power supply
Intel® Xeon® Scalable 4208 (8 core, 2.1 GHz, 85W)
https://www.hpe.com/h20195/v2/gethtml.aspx?docname=a00021860enw
https://www.hpe.com/h20195/v2/GetDocument.aspx?docname=a00021860enw
Optional locking Bezel Kit, Intrusion Detection Kit, or HPE TPM 2.0
3 standard single rotor hot swap fans
Intel and Intel Xeon are trademarks of Intel Corporation in the U.S. and other countries. All other third-party marks are property of their respective owners.
3/3/3 Server Warranty includes 3-Year Parts, 3-Year Labor, 3-Year Onsite support with next business day response. Additional HPE support and service coverage for your product can be purchased locally. For information on availability of service upgrades and the cost for these service upgrades, refer to the HPE website at http://www.hpe.com/support
11.65 kg minimum, 15.74 kg maximum
25.69 lb minimum, 34.69 maximum
HPE 1.8TB SAS 12G Enterprise 10K SFF (2.5in) SC 3yr Wty 512e Digitally Signed Firmware HDD (872481-B21)
HPE DL160/180 Gen10 Redundant Power Supply Enablement Kit (866442-B21)
HPE OneView including 3yr 24x7 Support Flexible Quantity E-LTU (E5Y35AAE)
HPE Ethernet 10Gb 2-port 535FLR-T Adapter (817721-B21)
HPE iLO Advanced AKA Tracking License with 3yr Support on iLO Licensed Features (BD507A)
HPE 960GB SATA 6G Read Intensive M.2 2280 3yr Wty Digitally Signed Firmware SSD (875500-B21)
HPE 240GB SATA 6G Mixed Use M.2 2280 3yr Wty Digitally Signed Firmware SSD (875488-B21)
HPE DL160/120 Gen10 M.2 SATA Cable Kit (866456-B21)
HPE 960GB SATA 6G Mixed Use M.2 2280 3yr Wty Digitally Signed Firmware SSD (875492-B21)
HPE iLO Advanced Electronic License with 1yr Support on iLO Licensed Features (E6U59ABE)
HPE DL160/120 Gen10 2SFF SAS/SATA Enablement Kit (866458-B21)
HPE Ethernet 10Gb 2-port 568FLR-T Media Module Adapter (866470-B21)
HPE 8GB Dual microSD Flash USB Drive (741279-B21)
HPE iLO Advanced Electronic License with 3yr Support on iLO Licensed Features (E6U64ABE)
HPE StoreFabric CN1200E 10GBASE-T Dual Port Converged Network Adapter (N3U51A)
HPE 100Gb 1-port OP101 QSFP28 x16 PCIe Gen3 with Intel Omni-Path Architecture Adapter (829335-B21)
HPE 240GB SATA 6G Read Intensive SFF (2.5in) SC 3yr Wty Digitally Signed Firmware SSD (875503-B21)
HPE iLO Advanced Flexible Quantity License with 3yr Support on iLO Licensed Features (BD506A)
HPE InfiniBand EDR/Ethernet 100Gb 2-port 840QSFP28 Adapter (825111-B21)
HPE Ethernet 10/25Gb 2-port 640FLR-SFP28 Adapter (817749-B21)
HPE 900GB SAS 12G Enterprise 15K LFF (3.5in) LPC 3yr Wty Digitally Signed Firmware HDD (870761-B21)
HPE InfiniBand EDR/Ethernet 100Gb 1-port 840QSFP28 Adapter (825110-B21)
HPE StoreFabric CN1100R 10GBASE-T Dual Port Converged Network Adapter (N3U52A)
HPE InfiniBand FDR/Ethernet 10Gb/40Gb 2-port 544+QSFP Adapter (764284-B21)
HPE iLO Advanced 1-server License with 1yr Support on iLO Licensed Features (512485-B21)
HPE InfiniBand FDR/Ethernet 10Gb/40Gb 2-port 544+FLR-QSFP Adapter (764285-B21)
HPE Ethernet 10/25Gb 2-port 640SFP28 Adapter (817753-B21)
HPE OneView including 3yr 24x7 Support Physical 1-server LTU (E5Y34A)
HPE 480GB SATA 6G Read Intensive M.2 2280 3yr Wty Digitally Signed Firmware SSD (875498-B21)
HPE Smart Array SR Secure Encryption (Data at Rest Encryption/per Server Entitlement) E-LTU (Q2F26AAE)
HPE Universal SATA HHHL 3yr Wty M.2 Kit (878783-B21)
HPE 480GB SATA 6G Mixed Use M.2 2280 3yr Wty Digitally Signed Firmware SSD (875490-B21)
HPE 800W Flex Slot Universal Hot Plug Low Halogen Power Supply Kit (865428-B21)
HPE iLO Advanced Flexible Quantity License with 1yr Support on iLO Licensed Features (512486-B21)
HPE DL160/120 Gen10 Redundant Fan Kit (866438-B21)
HPE 3 Year Foundation Care 24x7 DL160 Gen10 Service (HC9W1E)
HPE 3 Year Proactive Care Next Business Day DL160 Gen10 Service (HC9V5E)
HPE 3 Year Proactive Care 24x7 DL160 Gen10 Service (HC9W4E)
HPE Training Credit Servers Hybrid IT Service (HF385E)
HPE 5 Year Foundation Care Next Business Day DL160 Gen10 Service (HD0A8E)
HPE 3 Year Foundation Care Next Business Day DL160 Gen10 Service (HC9V0E)
HPE 5 Year Foundation Care Call-To-Repair with CDMR DL160 Gen10 Service (HD0D0E)
HPE 3 Year Proactive Care Next Business Day with DMR DL160 Gen10 Service (HC9V6E)
HPE 4 Year Proactive Care Next Business Day DL160 Gen10 Service (HC9Y4E)
HPE 3 Year Proactive Care Advanced 24x7 DL160 Gen10 Service (HC9W7E)
HPE 5 Year Proactive Care Advanced 24x7 DL160 Gen10 Service (HD0C5E)
HPE 4 Year Proactive Care 24x7 with CDMR DL160 Gen10 Service (HC9Z5E)
HPE 5 Year Foundation Care Next Business Day with CDMR DL160 Gen10 Service (HD0B0E)
HPE 4 Year Proactive Care Advanced Next Business Day with CDMR DL160 Gen10 Service (HC9Y9E)
HPE 3 Year Proactive Care Advanced Call-To-Repair with DMR DL160 Gen10 Service (HC9X7E)
HPE 5 Year Proactive Care 24x7 DL160 Gen10 Service (HD0C2E)
HPE 3 Year Proactive Care Call-To-Repair with CDMR DL160 Gen10 Service (HC9X5E)
HPE 5 Year Foundation Care Call-To-Repair DL160 Gen10 Service (HD0C8E)
HPE 3 Year Foundation Care Next Business Day with DMR DL160 Gen10 Service (HC9V1E)
HPE 5 Year Proactive Care 24x7 with DMR DL160 Gen10 Service (HD0C3E)
HPE 3 Year Proactive Care Advanced 24x7 with CDMR DL160 Gen10 Service (HC9W9E)
HPE 4 Year Proactive Care Advanced Call-To-Repair with CDMR DL160 Gen10 Service (HD0A7E)
HPE 3 Year Proactive Care Advanced Next Business Day with DMR DL160 Gen10 Service (HC9V9E)
HPE 4 Year Proactive Care Advanced Next Business Day DL160 Gen10 Service (HC9Y7E)
HPE 5 Year Foundation Care 24x7 with CDMR DL160 Gen10 Service (HD0C1E)
HPE 4 Year Proactive Care 24x7 with DMR DL160 Gen10 Service (HC9Z4E)
HPE 3 Year Proactive Care 24x7 with CDMR DL160 Gen10 Service (HC9W6E)
HPE 3 Year Foundation Care Call-To-Repair with DMR DL160 Gen10 Service (HC9X1E)
HPE 4 Year Foundation Care Next Business Day with CDMR DL160 Gen10 Service (HC9Y1E)
HPE 4 Year Foundation Care Call-To-Repair with DMR DL160 Gen10 Service (HD0A0E)
HPE 3 Year Proactive Care Advanced Call-To-Repair DL160 Gen10 Service (HC9X6E)
HPE 5 Year Proactive Care Call-To-Repair DL160 Gen10 Service (HD0D1E)
HPE 3 Year Foundation Care 24x7 with CDMR DL160 Gen10 Service (HC9W3E)
HPE 3 Year Proactive Care Next Business Day with CDMR DL160 Gen10 Service (HC9V7E)
HPE 5 Year Proactive Care Next Business Day with CDMR DL160 Gen10 Service (HD0B5E)
HPE 3 Year Foundation Care 24x7 with DMR DL160 Gen10 Service (HC9W2E)
HPE 5 Year Proactive Care Call-To-Repair with CDMR DL160 Gen10 Service (HD0D3E)
HPE 4 Year Proactive Care Advanced Next Business Day with DMR DL160 Gen10 Service (HC9Y8E)
HPE 3 Year Proactive Care Call-To-Repair 24x7 with DMR DL160 Gen10 Service (HC9X4E)
HPE 5 Year Proactive Care Call-To-Repair 24x7 with DMR DL160 Gen10 Service (HD0D2E)
HPE 3 Year Proactive Care Call-To-Repair DL160 Gen10 Service (HC9X3E)
HPE 5 Year Foundation Care 24x7 with DMR DL160 Gen10 Service (HD0C0E)
HPE 4 Year Proactive Care Next Business Day with CDMR DL160 Gen10 Service (HC9Y6E)
HPE 3 Year Proactive Care Advanced Next Business Day DL160 Gen10 Service (HC9V8E)
HPE 3 Year Foundation Care Call-To-Repair with CDMR DL160 Gen10 Service (HC9X2E)
HPE 5 Year Proactive Care Advanced Call-To-Repair with DMR DL160 Gen10 Service (HD0D5E)
HPE 5 Year Proactive Care Advanced Call-To-Repair DL160 Gen10 Service (HD0D4E)
HPE 3 Year Foundation Care Next Business Day with CDMR DL160 Gen10 Service (HC9V2E)
HPE 4 Year Foundation Care Next Business Day with DMR DL160 Gen10 Service (HC9Y0E)
HPE 4 Year Proactive Care Advanced Call-To-Repair DL160 Gen10 Service (HD0A5E)
HPE 4 Year Proactive Care Advanced 24x7 with DMR DL160 Gen10 Service (HC9Z7E)
HPE 4 Year Foundation Care Call-To-Repair with CDMR DL160 Gen10 Service (HD0A1E)
HPE 4 Year Proactive Care Next Business Day with DMR DL160 Gen10 Service (HC9Y5E)
HPE 4 Year Proactive Care Call-To-Repair 24x7 with DMR DL160 Gen10 Service (HD0A3E)
HPE 4 Year Proactive Care Advanced Call-To-Repair with DMR DL160 Gen10 Service (HD0A6E)
HPE 3 Year Proactive Care Advanced 24x7 with DMR DL160 Gen10 Service (HC9W8E)
HPE 4 Year Foundation Care 24x7 DL160 Gen10 Service (HC9Z0E)
HPE 3 Year Proactive Care Advanced Next Business Day with CDMR DL160 Gen10 Service (HC9W0E)
HPE 5 Year Foundation Care Next Business Day with DMR DL160 Gen10 Service (HD0A9E)
HPE 5 Year Proactive Care Advanced Call-To-Repair with CDMR DL160 Gen10 Service (HD0D6E)
HPE 4 Year Proactive Care Call-To-Repair with CDMR DL160 Gen10 Service (HD0A4E)
HPE 4 Year Foundation Care 24x7 with CDMR DL160 Gen10 Service (HC9Z2E)
HPE 5 Year Proactive Care Advanced Next Business Day with CDMR DL160 Gen10 Service (HD0B8E)
HPE 5 Year Proactive Care Advanced 24x7 with DMR DL160 Gen10 Service (HD0C6E)
HPE 4 Year Proactive Care Advanced 24x7 with CDMR DL160 Gen10 Service (HC9Z8E)
HPE 5 Year Proactive Care Next Business Day with DMR DL160 Gen10 Service (HD0B4E)
HPE 4 Year Foundation Care 24x7 with DMR DL160 Gen10 Service (HC9Z1E)
HPE 5 Year Proactive Care 24x7 with CDMR DL160 Gen10 Service (HD0C4E)
HPE 4 Year Foundation Care Next Business Day DL160 Gen10 Service (HC9X9E)
HPE 3 Year Proactive Care Advanced Call-To-Repair with CDMR DL160 Gen10 Service (HC9X8E)
HPE 3 Year Proactive Care 24x7 with DMR DL160 Gen10 Service (HC9W5E)
HPE 5 Year Proactive Care Advanced 24x7 with CDMR DL160 Gen10 Service (HD0C7E)
HPE 3 Year Foundation Care Call-To-Repair DL160 Gen10 Service (HC9X0E)
HPE 5 Year Proactive Care Next Business Day DL160 Gen10 Service (HD0B3E)
HPE 5 Year Proactive Care Advanced Next Business Day DL160 Gen10 Service (HD0B6E)
HPE 4 Year Foundation Care Call-To-Repair DL160 Gen10 Service (HC9Z9E)
HPE 4 Year Proactive Care Advanced 24x7 DL160 Gen10 Service (HC9Z6E)
HPE 4 Year Proactive Care 24x7 DL160 Gen10 Service (HC9Z3E)
HPE 5 Year Proactive Care Advanced Next Business Day with DMR DL160 Gen10 Service (HD0B7E)
HPE 5 Year Foundation Care Call-To-Repair with DMR DL160 Gen10 Service (HD0C9E)
HPE 5 Year Foundation Care 24x7 DL160 Gen10 Service (HD0B9E)
HPE 4 Year Proactive Care Call-To-Repair DL160 Gen10 Service (HD0A2E)
HPE Installation and Startup Entry ML DL Server Service (U6E13E)