HPE JY720A Aruba AP-203RP (RW) Flex-radio 802.11ac 2x2 PoE Unified Remote AP with Internal Antennas

[JY720A]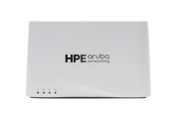 FCC/ISED;CE Marked;RED Directive 2014/53/EU;EMC Directive 2014/30/EU;Low Voltage Directive 2014/35/E;UL/IEC/EN 60950;EN 60601-1-1 and EN 60601-1-2
Flex-radio 802.11ac 2x2 unified remote access point with internal antennas. Can provide PoE+ power to local device. This SKU is for rest-of-world countries not given a specific regulatory domain.
8.2W maximum (worst-case), 5.0W in idle mode (worst-case). Power consumed by external USB and/or PoE-PD device (and internal losses) could add up to 5.7W for a 5W/1A USB device and up to 17.2W for a maximum load (15.4W) 802.3af PoE-PD device.
Aruba limited lifetime warranty
Aruba limited lifetime warranty
Supports desk mount without additional accessories. A cover ships with the AP to hide connectors, cables and product labels. The cover can be used to support wall mounted deployments.
https://www.hpe.com/h20195/v2/gethtml.aspx?docname=a00000838enw
https://www.hpe.com/h20195/v2/GetDocument.aspx?docname=a00000838enw
(1) 10/100/1000BASE-T RJ-45 (uplink);(2) 10/100/1000BASE-T RJ-45 (local), one of which provides 48 VDC PoE+
CB Scheme Safety, cTUVus;Wi-Fi Alliance (WFA) certified IEEE 802.11a/b/g/n/ac
Aruba 1 Year Foundation Care Next Business Day Exchange AP-203R POE Service (H6PZ1E)
Aruba 3 Year Foundation Care Next Business Day Exchange AP-203R POE Service (H6PZ3E)
Aruba 5 Year Foundation Care Next Business Day Exchange AP-203R POE Service (H6QA1E)
Aruba 4 Year Foundation Care Next Business Day Exchange Education/Retail AP-203R POE Service (HA2X2E)
Aruba 4Y FC 4H Exch VolT1 AP203R POE SVC (HA2Z7E)
HPE 5 Year Proactive Care Next Business Day Exchange Aruba AP-203R POE Service (H6QA3E)
Aruba 1 Year Foundation Care 4-Hour Exchange Volume T2 (1000) AP-203R POE Service (HA3A0E)
Aruba 3 Year Foundation Care 4-Hour Exchange Education/Retail AP-203R POE Service (HA2W7E)
Aruba 1 Year Foundation Care Next Business Day Exchange Volume T2 (1000) AP-203R POE Service (HA2Z0E)
Aruba 5Y FC NBD Exch VT1 AP203R POE SVC (HA2Y8E)
Aruba 1 Year Foundation Care Next Business Day Exchange Education/Retail AP-203R POE Service (HA2X0E)
Aruba 3 Year Foundation Care Next Business Day Exchange Volume T2 (1000) AP-203R POE Service (HA2Z1E)
HPE 5 Year Proactive Care 4-Hour Exchange Education/Retail Aruba AP-203R POE Service (HA2W5E)
Aruba 5Y FC 4H Exch VolT1 AP203R POE SVC (HA2Z8E)
Aruba 1 Year Foundation Care 4-Hour Exchange AP-203R POE Service (H6PZ2E)
Aruba 5 Year Foundation Care 4-Hour Exchange Education/Retail AP-203R POE Service (HA2W9E)
Aruba 4 Year Foundation Care 24x7 SW Education/Retail Volume T2 (1000) AP-203R POE Service (HA2Y3E)
HPE 3 Year Proactive Care 4-Hour Exchange Aruba AP-203R POE Service (H6PZ6E)
Aruba 1Y FC 4H Exch VolT1 AP203R POE SVC (HA2Z5E)
Aruba 3 Year Foundation Care 24x7 SW Education/Retail Volume T2 (1000) AP-203R POE Service (HA2Y2E)
Aruba 5 Year Foundation Care 4-Hour Exchange Volume T2 (1000) AP-203R POE Service (HA3A3E)
Aruba 3Y FC 4H Exch VolT1 AP203R POE SVC (HA2Z6E)
Aruba 5 Year Foundation Care 4-Hour Exchange AP-203R POE Service (H6QA2E)
Aruba 5 Year Foundation Care Next Business Day Exchange Volume T2 (1000) AP-203R POE Service (HA2Z3E)
HPE 3 Year Proactive Care Next Business Day Exchange Aruba AP-203R POE Service (H6PZ5E)
HPE 4 Year Proactive Care 4-Hour Exchange Education/Retail Aruba AP-203R POE Service (HA2W4E)
Aruba 5 Year Foundation Care Next Business Day Exchange Education/Retail AP-203R POE Service (HA2X3E)
Aruba 1Y FC NBD Exch VT1 AP203R POE SVC (HA2Y5E)
Aruba 4 Year Foundation Care 4-Hour Exchange Volume T2 (1000) AP-203R POE Service (HA3A2E)
Aruba 4 Year Foundation Care Next Business Day Exchange Volume T2 (1000) AP-203R POE Service (HA2Z2E)
Aruba 5 Year Foundation Care 24x7 SW Education/Retail Volume T2 (1000) AP-203R POE Service (HA2Y4E)
Aruba 3 Year Foundation Care Next Business Day Exchange Education/Retail AP-203R POE Service (HA2X1E)
Aruba 4 Year Foundation Care 4-Hour Exchange Education/Retail AP-203R POE Service (HA2W8E)
HPE 4 Year Proactive Care Next Business Day Exchange Aruba AP-203R POE Service (H6PZ9E)
Aruba 1 Year Foundation Care 4-Hour Exchange Education/Retail AP-203R POE Service (HA2W6E)
Aruba 3 Year Foundation Care 4-Hour Exchange Volume T2 (1000) AP-203R POE Service (HA3A1E)
Aruba 3Y FC NBD Exch VT1 AP203R POE SVC (HA2Y6E)
Aruba 3 Year Foundation Care 4-Hour Exchange AP-203R POE Service (H6PZ4E)
HPE 3 Year Proactive Care 4-Hour Exchange Education/Retail Aruba AP-203R POE Service (HA2W3E)
HPE 5 Year Proactive Care 4-Hour Exchange Aruba AP-203R POE Service (H6QA4E)
Aruba 1 Year 24x7 Software Education/Retail Volume T2 (1000) AP-203R POE Service (HA2Y1E)
HPE 4 Year Proactive Care 4-Hour Exchange Aruba AP-203R POE Service (H6QA0E)
Aruba 4Y FC NBD Exch VT1 AP203R POE SVC (HA2Y7E)
Aruba 4 Year Foundation Care 4-Hour Exchange AP-203R POE Service (H6PZ8E)
HPE 3 Year Proactive Care Next Business Day Exchange Education/Retail Aruba AP-203R POE Service (HA2X4E)
Aruba 4 Year Foundation Care Next Business Day Exchange AP-203R POE Service (H6PZ7E)
HPE 4 Year Proactive Care Next Business Day Exchange Education/Retail Aruba AP-203R POE Service (HA2X5E)
HPE 5 Year Proactive Care Next Business Day Exchange Education/Retail Aruba AP-203R POE Service (HA2X6E)
Aruba 1 Year Renewal Foundation Care 4-Hour Exchange Volume T2 (1000) AP-203R POE Service (HA3A4PE)
Aruba 1Y Ren FC 4H Exch VT1AP203RPOE SVC (HA2Z9PE)
HPE 1 Year Renewal Proactive Care 4-Hour Exchange Aruba AP-203R POE Service (H6QA7PE)
Aruba 1 Year Renewal Foundation Care Next Business Day Exchange Volume T2 (1000) AP-203R POE Service (HA2Z4PE)
HPE 1 Year Renewal Proactive Care Next Business Day Exchange Aruba AP-203R POE Service (H6QA6PE)
HPE 1 Year Renewal Proactive Care 4-Hour Exchange Education/Retail Aruba AP-203R POE Service (HA2X9PE)
HPE 1 Year Renewal Proactive Care Next Business Day Exchange Education/Retail Aruba AP203RPOEService (HA2Y0PE)
Aruba 1 Year Renewal Foundation Care 4-Hour Exchange Education/Retail AP-203R POE Service (HA2X7PE)
Aruba 1 Year Renewal Foundation Care 4-Hour Exchange AP-203R POE Service (H6QA8PE)
Aruba 1Y Ren FC NBD ExchVT1AP203RPOE SVC (HA2Y9PE)
Aruba 1 Year Renewal Foundation Care Next Business Day Exchange Education/Retail AP-203R POE Service (HA2X8PE)