HPE JY678A Aruba AP-303H (RW) Dual-radio 802.11ac 2x2 Unified Hospitality AP with Internal Antennas

[JY678A]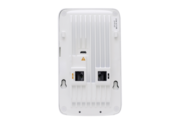 Bruttó ár:
112 989,- Ft
[88 968,- Ft + Áfa]
Elérhetőség:
Rendelésre (1-4 hét)
INGYENES HÁZHOZSZÁLLÍTÁS!
Technology Services
Ár
:
34 491,- Ft
(27 158,- Ft + Áfa)
48 VDC, direct DC power or PoE
High-performance 802.11ac Wave 2 AP for hospitality and branch offices. For the rest of word regulatory domain only, excluding US, Japan, Irasel and Egypt.
9.7 W maximum (unit only)
Limited lifetime warranty
Mounting plate for use with a single-gang wall-box. Several optional mount kits are available to attach the AP to a dual-gang wall-box, directly to the wall, or to support desk mounting.
https://www.hpe.com/h20195/v2/GetDocument.aspx?docname=a00000675enw
https://www.hpe.com/h20195/v2/gethtml.aspx?docname=a00000675enw
3 10/100/1000BASE-T (local), 1 10/100/1000BASE-T (uplink), 2 10/100/1000BASE-T (pass-through)
Aruba 1 Year Foundation Care Next Business Day Exchange AP-303H Service (H6PQ1E)
Aruba 3 Year Foundation Care Next Business Day Exchange AP-303H Service (H6PQ3E)
Aruba 5 Year Foundation Care Next Business Day Exchange AP-303H Service (H6PR1E)
HPE 3 Year Proactive Care 4-Hour Exchange Aruba AP-303H Service (H6PQ6E)
Aruba 4 Year Foundation Care 24x7 SW Education/Retail Volume T2 (1000) AP-303H Service (H9ZS2E)
Aruba 3 Year Foundation Care Next Business Day Exchange Volume T2 (1000) AP-303H Service (H9ZT0E)
Aruba 3Y FC 4H Exch VolT1 AP-303H SVC (HA2H2E)
Aruba 1 Year Foundation Care Next Business Day Exchange Volume T2 (1000) AP-303H Service (H9ZS9E)
HPE 5 Year Proactive Care 4-Hour Exchange Aruba AP-303H Service (H6PR4E)
Aruba 1 Year Foundation Care 4-Hour Exchange Volume T2 (1000) AP-303H Service (HA2H6E)
HPE 3 Year Proactive Care Next Business Day Exchange Education/Retail Aruba AP-303H Service (H9ZR3E)
Aruba 3Y FC NBD Exch VolT1 AP-303H SVC (H9ZS5E)
Aruba 3 Year Foundation Care 24x7 SW Education/Retail Volume T2 (1000) AP-303H Service (H9ZS1E)
Aruba 3 Year Foundation Care Next Business Day Exchange Education/Retail AP-303H Service (H9ZR0E)
Aruba 4 Year Foundation Care Next Business Day Exchange Education/Retail AP-303H Service (H9ZR1E)
Aruba 3 Year Foundation Care 4-Hour Exchange Education/Retail AP-303H Service (H9ZQ6E)
Aruba 5Y FC 4H Exch VolT1 AP-303H SVC (HA2H4E)
Aruba 5 Year Foundation Care Next Business Day Exchange Education/Retail AP-303H Service (H9ZR2E)
HPE 5 Year Proactive Care Next Business Day Exchange Aruba AP-303H Service (H6PR3E)
Aruba 5 Year Foundation Care 4-Hour Exchange Volume T2 (1000) AP-303H Service (HA2H9E)
Aruba 1 Year Foundation Care 4-Hour Exchange Education/Retail AP-303H Service (H9ZQ5E)
Aruba 1 Year Foundation Care 4-Hour Exchange AP-303H Service (H6PQ2E)
Aruba 1Y FC NBD Exch VolT1 AP-303H SVC (H9ZS4E)
Aruba 5 Year Foundation Care 24x7 SW Education/Retail Volume T2 (1000) AP-303H Service (H9ZS3E)
Aruba 4 Year Foundation Care 4-Hour Exchange Education/Retail AP-303H Service (H9ZQ7E)
Aruba 4Y FC NBD Exch VolT1 AP-303H SVC (H9ZS6E)
Aruba 1 Year 24x7 Software Education/Retail Volume T2 (1000) AP-303H Service (H9ZS0E)
HPE 4 Year Proactive Care Next Business Day Exchange Aruba AP-303H Service (H6PQ9E)
HPE 3 Year Proactive Care Next Business Day Exchange Aruba AP-303H Service (H6PQ5E)
HPE 4 Year Proactive Care Next Business Day Exchange Education/Retail Aruba AP-303H Service (H9ZR4E)
Aruba 1Y FC 4H Exch VolT1 AP-303H SVC (H9ZT4E)
Aruba 4 Year Foundation Care 4-Hour Exchange Volume T2 (1000) AP-303H Service (HA2H8E)
Aruba 4 Year Foundation Care Next Business Day Exchange Volume T2 (1000) AP-303H Service (H9ZT1E)
HPE 4 Year Proactive Care 4-Hour Exchange Aruba AP-303H Service (H6PR0E)
Aruba 3 Year Foundation Care 4-Hour Exchange Volume T2 (1000) AP-303H Service (HA2H7E)
HPE 5 Year Proactive Care 4-Hour Exchange Education/Retail Aruba AP-303H Service (H9ZQ4E)
HPE 3 Year Proactive Care 4-Hour Exchange Education/Retail Aruba AP-303H Service (H9ZQ2E)
Aruba 4 Year Foundation Care Next Business Day Exchange AP-303H Service (H6PQ7E)
Aruba 5 Year Foundation Care 4-Hour Exchange AP-303H Service (H6PR2E)
HPE 4 Year Proactive Care 4-Hour Exchange Education/Retail Aruba AP-303H Service (H9ZQ3E)
Aruba 5 Year Foundation Care 4-Hour Exchange Education/Retail AP-303H Service (H9ZQ8E)
Aruba 5Y FC NBD Exch VolT1 AP-303H SVC (H9ZS7E)
HPE 5 Year Proactive Care Next Business Day Exchange Education/Retail Aruba AP-303H Service (H9ZR5E)
Aruba 4 Year Foundation Care 4-Hour Exchange AP-303H Service (H6PQ8E)
Aruba 4Y FC 4H Exch VolT1 AP-303H SVC (HA2H3E)
Aruba 5 Year Foundation Care Next Business Day Exchange Volume T2 (1000) AP-303H Service (H9ZT2E)
Aruba 1 Year Foundation Care Next Business Day Exchange Education/Retail AP-303H Service (H9ZQ9E)
Aruba 1Y Ren FC NBD Exch VT1 AP303H SVC (H9ZS8PE)
Aruba 1 Year Renewal Foundation Care Next Business Day Exchange Volume T2 (1000) AP-303H Service (H9ZT3PE)
Aruba 1 Year Renewal Foundation Care 4-Hour Exchange AP-303H Service (H6PR8PE)
Aruba 1 Year Renewal Foundation Care Next Business Day Exchange AP-303H Service (H6PR5PE)
HPE 1 Year Renewal Proactive Care 4-Hour Exchange Aruba AP-303H Service (H6PR7PE)
HPE 1 Year Renewal Proactive Care 4-Hour Exchange Education/Retail Aruba AP-303H Service (H9ZR8PE)
Aruba 1 Year Renewal Foundation Care 4-Hour Exchange Volume T2 (1000) AP-303H Service (HA2J0PE)
HPE 1 Year Renewal Proactive Care Next Business Day Exchange Aruba AP-303H Service (H6PR6PE)
HPE 1 Year Renewal Proactive Care Next Business Day Exchange Education/Retail Aruba AP-303H Service (H9ZR9PE)
Aruba 1Y Ren FC 4H Exch VolT1 AP303H SVC (HA2H5PE)
Aruba 1 Year Renewal Foundation Care 4-Hour Exchange Education/Retail AP-303H Service (H9ZR6PE)
Aruba 1 Year Renewal Foundation Care Next Business Day Exchange Education/Retail AP-303H Service (H9ZR7PE)