HPE JH569A Arista 7280E 48SFP+ 4QSFP+ Back-to-Front AC Switch

[JH569A]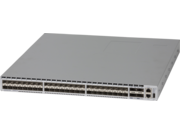 Bruttó ár:
9 552 789,- Ft
[7 521 881,- Ft + Áfa]
Elérhetőség:
Rendelésre (1-4 hét)
INGYENES HÁZHOZSZÁLLÍTÁS!
HPE engedélyek és tanúsítványok
HPE hálózati adó-vevők
HPE szerver beépítő sínek
HPE szerver tápegységek
HPE szerver ventillátorok
HPE tápvezetékek, tápkábelek
Networking Software
48 SFP+ and 4 QSFP+ ports, with back-to-front air circulation.
CloudVision; 100/1000 Management Port; RS-232 Serial Console Port; USB Port; SNMP v1, v2, v3; Management over IPv6; Telnet and SSHv2; Syslog; AAA; Industry Standard CLI; Beacon LED for system identification
The Arista 7280E switches come with a one-year limited hardware warranty, which covers parts, repair, or replacement with a 10 business day turn-around after the unit is received.
System memory: 4 GB; Flash memory: 4 GB; Packet buffer: 9 GB
https://www.hpe.com/h20195/v2/GetDocument.aspx?docname=a00003361enw
https://www.hpe.com/h20195/v2/gethtml.aspx?docname=a00003361enw
(48) SFP+ ports; (4) QSFP+ ports