HPE 875488-B21 240GB SATA 6G Mixed Use M.2 2280 3yr Wty Digitally Signed Firmware SSD

[875488-B21]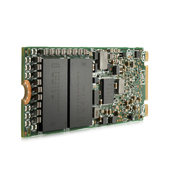 Bruttó ár:
74 089,- Ft
[58 338,- Ft + Áfa]
Elérhetőség:
Rendelésre (1-4 hét)
INGYENES HÁZHOZSZÁLLÍTÁS!
HPE ProLiant DL Servers
HPE ProLiant ML Servers
3/0/0 warranty; Customer Self Repair (CSR) subject to maximum usage limitations. Maximum usage limit: This is the maximum amount of data that can be written to the drive. Drives that have reached this limit will not be eligible for warranty coverage.
https://www.hpe.com/h20195/v2/gethtml.aspx?docname=a00001288enw
https://www.hpe.com/h20195/v2/GetDocument.aspx?docname=a00001288enw
Microsoft is either a registered trademark or trademark of Microsoft Corporation in the United States and/or other countries. All other third-party trademark(s) is/are property of their respective owner(s).
HPE ProLiant DL380 Gen10 3106 1P 16GB-R S100i 8LFF 500W PS Entry SATA Server (868709-291)
HPE ProLiant ML350 Gen9 2xE5-2630v4 2P 32GB-R P440ar 8SFF 2x800W PS Perf ES Rack Server (835264-031)
HPE ProLiant DL360 Gen10 4116 85W 2P 64G-2R P408i-a 8SFF 2x800W Server (875844-005)
HPE ProLiant ML350 Gen10 3104 1P 8GB-R S100i 4LFF NHP 500W PS Sub Entry SATA Server (877619-001)
HPE ProLiant ML350 Gen10 4110 1P 16GB-R P408i-a 8SFF 1x800W RPS Base Server (877621-371)
HPE ProLiant DL360 Gen10 4110 85W 1P 32G-2R P408i-a 8SFF 1x500W Server (875843-005)
HPE ProLiant DL360 Gen10 3104 85W 1P 16G-2R P408i-a 8SFF 1x500W Server/Promo (876342-295)
HPE ProLiant DL360 Gen10 4116 85W 1P 16G-2R P408i-a 8SFF 1x500W Server/Promo (875847-295)
HPE ProLiant ML30 Gen9 G4600 8GB-U B140i 4LFF Non-hot-plug 350W Svr/Promo (873236-295)
HPE ProLiant DL380 Gen10 4108 1P 16GB-R P408i-a 8SFF 1x500W PS Server/Promo (875769-375)
HPE ProLiant DL325 Gen10 7351P 1P 16GB-R E208i-a 8SFF 1x500W PS Performance Server (P04647-AA1)
HPE ProLiant ML110 Gen10 4110 1P 16GB-R S100i 4LFF SATA 550W PS Perf Server (878452-AA1)
HPE ProLiant DL380 Gen10 6130 2P 64GB-R P408i-a 8SFF 2x800W PS Performance Server (826567-291)
HPE ProLiant ML350 Gen10 5118 2P 32GB-R P408i-a 8SFF 2x800W RPS Perf Server (877623-031)
HPE ProLiant ML30 Gen9 E3-1240v6 1P 8GB-U B140i 4LFF SATA 460W RPS Perf Server (872659-031)
HPE ProLiant DL20 Gen9 E3-1220v6 8GB-U B140i 4SFF 900W RPS Server/Promo (872880-295)
HPE ProLiant DL580 Gen10 5120 2P 64GB-R P408i-p 8SFF 4x800W PS Entry Server (869848-291)
HPE ProLiant DL360 Gen10 4116 85W 1P 16G-2R P408i-a 8SFF 1x500W Server/Promo (875847-375)
HPE ProLiant ML30 Gen9 E3-1240v6 8GB-U B140i 8SFF 460W Server/Promo (873235-295)
HPE ProLiant DL20 Gen9 E3-1220v6 8GB-U B140i 2LFF 290W PS Base Server (871429-AA1)
HPE ProLiant ML350 Gen9 E5-2620v4 16GB-R P440ar 8SFF 500W PS Base Server (835263-421)
HPE ProLiant DL380 Gen10 4110 1P 16GB-R P408i-a 8SFF 500W RPS Solution Server (P05524-B21)
HPE ProLiant DL360 Gen10 6134 96W 1P 16G-2R P408i-a 8SFF 1x800W PS Server (Q8T67A)
HPE ProLiant DL380 Gen10 4114 1P 32GB-R P408i-a 8SFF 500W PS Server (875771-S05)
HPE ProLiant DL20 Gen9 E3-1240v6 16GB-U B140i 2LFF 290W PS 2TB HDD DVD-RW Svr/Promo (872877-375)
HPE ProLiant DL560 Gen10 8164 4P 256GB-R P816i-a 16SFF 2x1600W PS Perf Server (880173-AA1)
HPE ProLiant ML350 Gen9 E5-2620v4 1P 8GB-R P440ar 8SFF 500W PS Server/S-Buy (835851-S01)
HPE ProLiant DL380 Gen10 4114 96W 2P 16G-2R P408i-a 8SFF 1x500W PS Server (Q8T92A)
HPE ProLiant DL380 Gen10 4110 1P 16GB-R P408i-a 8SFF 1x500W PS Server/S-Buy (875760-S01)
HPE ProLiant DL380 Gen10 4116 1P 32GB-R P408i-a 8SFF 2x800W PS Server (875772-S05)
HPE ProLiant DL380 Gen10 4114 1P 16GB-R P408i-a+Expander 24SFF 2x800W PS Server/SB (875766-S01)
HPE ProLiant ML350 Gen9 E5-2650v4 1P 8GB-R P440ar 8SFF 800W PS ES Server/Promo (835862-295)
HPE ProLiant DL380 Gen10 6142 96W 2P 16G-2R P408i-a 8SFF 1x800W PS Server (Q8T89A)
HPE ProLiant ML350 Gen9 E5-2609v4 1.9GHz 6-core 1P 16GB-R SATA 500W RPS Server/TV (Q0P29A)
HPE ProLiant ML110 Gen10 3104 1P 8GB-R S100i 4LFF NHP 1TB 350W PS Server/Promo (880648-AA5)
HPE ProLiant DL360 Gen10 6130 125W 2P 64G-2R P408i-a Premium 10NVMe 2x800W Hi-Perf Svr (879991-291)
HPE ProLiant ML350 Gen10 4114 1P 16GB-R P408i-a 8SFF 1x800W RPS Server/Promo (879822-295)
HPE ProLiant ML350 Gen10 4108 1P 16GB-R P408i-a 8SFF 1x800W RPS Server (Q9F46A)
HPE ProLiant DL20 Gen9 G4560 8GB-U 2LFF Non-hot Plug 290W PS Entry Server (871428-B21)
HPE ProLiant ML30 Gen9 E3-1220v6 1P 8GB-U B140i 4LFF SATA 350W PS Base Server (872658-AA1)
HPE ProLiant ML350 Gen9 2xE5-2640v4 1P 16GB-R P440ar 8SFF 2x600GB 2x500W PS Server/S-Buy (835855-S05)
HPE ProLiant ML350 Gen10 5118 2P 32GB-R P408i-a 8SFF 2x800W RPS Perf Server (877623-371)
HPE ProLiant DL380 Gen10 4114 1P 32GB-R P408i-a 8SFF 800W PS Performance Server (P06421-291)
HPE ProLiant ML350 Gen9 E5-2620v4 1P 16GB-R P440ar 8SFF 2x300GB 500W PS Server/GO (835848-425)
HPE ProLiant DL380 Gen10 4108 1P 16GB-R P408i-a 8SFF 1x500W PS Server/Promo (875769-295)
HPE ProLiant ML350 Gen9 2xE5-2630v4 2P 32GB-R P440ar 8SFF 2x800W PS Perf ES Rack Server (835264-421)
HPE ProLiant DL560 Gen10 5120 2P 32GB-R S100i 8SFF 1x1600W PS Entry Server (840369-291)
HPE ProLiant ML110 Gen10 3104 1P 8GB-R 4LFF 500W PS Server (Q9G56A)
HPE ProLiant DL360 Gen10 6142 96W 1P 16G-2R P408i-a 8SFF 1x800W PS Server (Q8T68A)
HPE ProLiant ML110 Gen10 3106 1P 16GB-R S100i 4LFF Hot Plug 550W PS Perf Server (P03685-S01)
HPE ProLiant DL360 Gen10 3104 1P 8GB-R S100i 4LFF 500W PS Base Server (P01880-AA1)
HPE ProLiant DL360 Gen10 5115 85W 2P 64G-2R P408i-a 8SFF 2x800W Server/S-Buy (874460-S01)
HPE ProLiant ML350 Gen9 E5-2640v4 2.4 GHz 10-core 1P 32GB-R 500W RPS Server/TV (Q0P28A)
HPE ProLiant DL360 Gen10 6130 125W 2P 64G-2R P408i-a Premium 10NVMe 2x800W High Perf Svr (867964-B21)
HPE ProLiant DL325 Gen10 7251 1P 8GB-R E208i-a 4LFF 500W PS Entry Server (P04646-291)
HPE ProLiant ML110 Gen10 4110 1P 16GB-R S100i 4LFF SATA 550W PS Perf Server (878452-001)
HPE ProLiant ML110 Gen10 3106 1P 16GB-R S100i 4LFF Hot Plug 550W PS Perf Server (P03685-375)
HPE ProLiant BL460c Gen10 Intel Xeon-G 5120 1P 16G-2R Server (Q8T38A)
HPE ProLiant ML30 Gen9 E3-1220v6 1P 8GB-U B140i 4LFF 350W PS DVD Perf Server/TV (P03705-425)
HPE ProLiant DL20 Gen9 4SFF Configure-to-order Server (819786-B21)
HPE ProLiant XL190r Gen10 Server (HPEPLXL190rG10PRE)
HPE ProLiant ML350 Gen9 2xE5-2630v4 2P 32GB-R P440ar 8SFF 2x800W PS Perf ES Rack Server (835264-001)
HPE ProLiant ML30 Gen9 E3-1220v6 1P 8GB-U B140i 4LFF NHP 350W PS Entry Server/TV (P03704-425)
HPE ProLiant ML30 Gen9 E3-1220v6 8GB-U B140i 4LFF 350W PS 2TB Server/TV (873232-425)
HPE ProLiant ML350 Gen10 4110 1P 16GB-R E208i-a 8SFF 1x800W RPS Solution Server (P04674-S01)
HPE ProLiant DL380 Gen10 4110 1P 16GB-R P408i-a 8SFF 500W RPS Solution Server (P05524-291)
HPE ProLiant DL380 Gen10 3104 96W 2P 16G-2R P408i-a 8SFF 1x500W PS Server (Q8T85A)
HPE ProLiant DL360 Gen10 4114 85W 1P 16G-2R P408i-a 8SFF 1x500W Base Server (867962-291)
HPE ProLiant DL20 Gen9 Non-hot Plug 2LFF Configure-to-order Server (819784-B21)
HPE ProLiant DL360 Gen10 4116 85W 2P 64G-2R P408i-a 8SFF 2x500W Server (875842-S05)
HPE Apollo 6500 Gen10 System (HPEAPLL6500G10PRE)
HPE ProLiant ML350 Gen10 4114 2P 32GB-R P408i-a 8SFF 2x800W RPS Perf Rack Server (877622-001)
HPE Synergy 480 Gen10 5118 1P 32GB-R E208i-c Base Compute Module (871945-B21)
HPE ProLiant ML110 Gen10 3104 1P 8GB-R S100i 4LFF NHP SATA 350W PS Entry Server (878450-031)
HPE ProLiant DL380 Gen10 6154 96W 2P 16G-2R P408i-a 8SFF 1x800W PS Server (Q8T90A)
HPE ProLiant ML350 Gen9 E5-2630v4 1P 16GB-R P440ar 8SFF 500W PS Server/S-Buy (835854-S05)
HPE ProLiant ML30 Gen9 E3-1220v6 1P 8GB-U B140i 4LFF SATA 350W PS Base Server (872658-001)
HPE ProLiant DL20 Gen9 E3-1220v6 8GB-U B140i 2LFF 290W PS Base Server (871429-291)
HPE ProLiant ML110 Gen10 3104 1P 8GB-R S100i 4LFF NHP SATA 350W PS Entry Server (878450-291)
HPE ProLiant DL560 Gen10 6154 2P 128GB-R P408i-a 8SFF 2x1600W PS Server/S-Buy (870740-S01)
HPE ProLiant ML30 Gen9 Non-hot Plug 4LFF Configure-to-order Server (823401-B21)
HPE ProLiant ML30 Gen9 E3-1230v6 1P 8GB-U B140i 4LFF 460W RPS DVD Perf Server/TV (P03706-425)
HPE ProLiant DL20 Gen9 E3-1220v6 16GB-U B140i 2LFF Non-hot Plug 290W PS Server/TV (872872-425)
HPE ProLiant ML350 Gen9 E5-2620v4 16GB-R P440ar 8SFF 500W PS Base Server (835263-371)
HPE ProLiant DL380 Gen10 6130 1P 64GB-R P408i-a 8SFF 800W RPS Performance Server (P06423-291)
HPE ProLiant ML350 Gen9 E5-2650v4 2P 32GB-R P440ar 8SFF 2x800W PS Perf Server (835265-001)
HPE ProLiant DL360 Gen10 3106 85W 1P 16G-2R S100i 8SFF 1x500W Entry Server (867961-B21)
HPE ProLiant ML30 Gen9 E3-1230v6 8GB-U B140i 4LFF 350W PS Server/S-Buy (873228-001)
HPE ProLiant DL380 Gen10 3106 1P 16GB-R S100i 8LFF 500W PS Entry SATA Server (868709-B21)
HPE ProLiant ML110 Gen10 4108 1P 8GB-R 4LFF 500W PS Server (Q9G57A)
HPE ProLiant ML350 Gen10 3106 1P 8GB-R S100i 4LFF 500W PS Server/Promo (879819-375)
HPE Synergy 660 Gen10 6140 2P 128GB-R E208i-c Base Compute Module (871933-B21)
HPE ProLiant DL360 Gen10 3104 1P 8GB-R S100i 4LFF 500W PS Base Server (P01880-291)
HPE ProLiant DL380 Gen10 4112 1P 16GB-R P408i-a 8LFF 1x500W PS Server/S-Buy (875759-S01)
HPE ProLiant ML350 Gen9 E5-2609v4 1P 8GB-R B140i 8LFF 500W PS Entry Server (835262-371)
HPE ProLiant DL360 Gen10 4110 85W 1P 16G-2R P408i-a 8SFF 2x300G HDD 1x500W Server/GO (875840-425)
HPE ProLiant DL325 Gen10 7351P 1P 16GB-R E208i-a 8SFF 1x500W PS Performance Server (P04647-291)
HPE ProLiant ML110 Gen10 3104 1P 8GB-R S100i 4LFF NHP SATA 350W PS Entry Server (878450-001)
HPE ProLiant ML350 Gen10 3106 1P 16GB-R S100i 4LFF 1x500W RPS Entry SATA Server (877620-371)
HPE ProLiant ML350 Gen9 E5-2609v4 1P 8GB-R P440ar 8SFF 500W PS ES Server/Promo (845158-375)
HPE ProLiant ML350 Gen10 3106 1P 16GB-R S100i 4LFF 1x500W RPS Entry SATA Server (877620-001)
HPE ProLiant DL20 Gen9 E3-1220v6 8GB-U B140i 2LFF 290W PS 1TB HDD DVD-RW Svr/Promo (872875-375)
HPE ProLiant ML110 Gen10 4110 1P 16GB-R S100i 4LFF SATA 550W PS Perf Server (878452-031)
HPE ProLiant ML350 Gen9 E5-2640v4 1P 16GB-R P440ar 8SFF 2x800W PS Server/S-Buy (835852-S01)
HPE ProLiant ML110 Gen10 4108 1P 16GB-R S100i 4LFF Hot Plug 550W PS Perf Server (P03686-S01)
HPE ProLiant DL360 Gen10 4112 85W 1P 16G-2R P408i-a 8SFF 1x500W Server/S-Buy (874459-S01)
HPE ProLiant ML30 Gen9 Hot Plug 4LFF Configure-to-order Server (823402-B21)
HPE ProLiant ML110 Gen10 4110 1P 16GB-R 8SFF 800W RPS Solution Server (P03687-291)
HPE ProLiant DL360 Gen10 6130 1P 64GB-R P408i-a 8SFF 800W RPS Performance Server (P06455-291)
HPE ProLiant BL460c Gen10 Intel Xeon-S 4108 1P 16GB-R Server (863445-B21)
HPE ProLiant DL360 Gen10 4110 85W 1P 16G-2R P408i-a 8SFF 1x500W Server/TV (875838-425)
HPE ProLiant ML30 Gen9 E3-1240v6 1P 8GB-U B140i 4LFF SATA 460W RPS Perf Server (872659-001)
HPE ProLiant DL380 Gen10 4110 1P 32GB-R P816i-a 12LFF 2x800W PS Base Server (868710-291)
HPE ProLiant DL380 Gen10 5118 2P 64GB-R P408i-a 8SFF 2x800W PS Server (875773-S05)
HPE ProLiant DL360 Gen10 6132 140W 1P 32G-2R P408i-a 8SFF 2x800W Server/S-Buy (874462-S01)
HPE ProLiant DL20 Gen9 E3-1240v6 16GB-U H240 4SFF 290W PS Performance Server (871430-291)
HPE ProLiant ML110 Gen10 3104 1P 8GB-R S100i 4LFF NHP SATA 350W PS Entry Server (878450-371)
HPE ProLiant DL380 Gen10 6134 96W 2P 16G-2R P408i-a 8SFF 1x800W PS Server (Q8T88A)
HPE ProLiant ML350 Gen9 E5-2630v4 1P 8GB-R P440ar 8SFF 800W PS ES Server/Promo (835860-295)
HPE ProLiant ML350 Gen10 4110 1P 16GB-R P408i-a 8SFF 1x800W RPS Server/S-Buy (878766-S01)
HPE ProLiant DL20 Gen9 E3-1240v6 8GB-U B140i 2LFF 290W PS Server/Promo (872878-295)
HPE ProLiant ML110 Gen10 4108 1P 16GB-R S100i 4LFF 550W PS Server/S-Buy (880228-S01)
HPE ProLiant DL380 Gen10 4114 1P 32GB-R P408i-a 8SFF 500W PS Base Server (826565-291)
HPE ProLiant ML350 Gen10 4110 1P 16GB-R E208i-a 8SFF 1x800W RPS Solution Server (P04674-375)
HPE ProLiant ML30 Gen9 E3-1220v6 1P 8GB-U B140i 4LFF SATA 350W PS Base Server (872658-201)
HPE ProLiant DL20 Gen9 E3-1220v6 8GB-U B140i 2LFF Non-hot Plug 290W PS Server (873558-001)
HPE ProLiant ML350 Gen9 E5-2609v4 1P 8GB-R B140i 8LFF 500W PS Entry Server (835262-031)
HPE ProLiant DL360 Gen10 4110 1P 16GB-R P408i-a 8SFF 500W PS Performance Server (P06453-291)
HPE ProLiant ML350 Gen9 E5-2603v4 1P 8GB-R P440ar 8SFF 800W PS ES Server/Promo (835859-295)
HPE ProLiant DL380 Gen10 4116 1P 16GB-R P408i-a 8SFF 2x500W PS Server/Promo (875767-375)
HPE ProLiant DL20 Gen9 E3-1240v6 16GB-U H240 4SFF 290W PS Performance Server (871430-B21)
HPE ProLiant DL380 Gen10 4108 1P 16GB-R P408i-a 8SFF 3x300GB 1x500W PS Server/Promo (875768-375)
HPE ProLiant DL380 Gen10 4110 1P 16GB-R P408i-a 8SFF 500W PS Server/GO (875671-425)
HPE ProLiant ML350 Gen10 3106 1P 16GB-R S100i 4LFF 1x500W RPS Entry SATA Server (877620-291)
HPE Synergy 480 Gen10 3104 1P 16GB-R S100i SATA Entry Compute Module (871946-B21)
HPE ProLiant ML110 Gen10 4110 1P 16GB-R S100i 4LFF 1TB 350W PS Server/GO (880232-425)
HPE ProLiant DL360 Gen10 5120 105W 1P 16G-2R P408i-a 8SFF 1x500W Server/Promo (875848-375)
HPE ProLiant ML350 Gen9 E5-2630v4 1P 8GB-R P440ar 8LFF 800W PS ES Server/Promo (835861-295)
HPE ProLiant DL560 Gen10 8164 4P 256GB-R P816i-a 16SFF 2x1600W PS Perf Server (880173-B21)
HPE ProLiant ML350 Gen9 E5-2620v4 16GB-R P440ar 8SFF 500W PS Base Server (835263-031)
HPE ProLiant ML110 Gen10 3104 1P 16GB-R S100i 4LFF NHP 2TB 550W PS Server/Promo (880646-001)
HPE ProLiant ML110 Gen10 4110 1P 16GB-R 8SFF 800W RPS Solution Server (P03687-S01)
HPE ProLiant ML30 Gen9 E3-1220v6 8GB-U B140i 4LFF 460W Server/Promo (873233-375)
HPE ProLiant DL360 Gen10 4116 85W 1P 32G-2R P408i-a 8SFF 2x800W Server/S-Buy (874458-S01)
HPE ProLiant DL20 Gen9 E3-1240v6 16GB-U H240 4SFF 290W PS Performance Server (871430-AA1)
HPE ProLiant DL560 Gen10 5120 2P 32GB-R S100i 8SFF 1x1600W PS Entry Server (840369-AA1)
HPE ProLiant ML30 Gen9 Hot Plug 8SFF Configure-to-order Server (823403-B21)
HPE ProLiant DL360 Gen10 5118 105W 2P 32G-2R P408i-a 8SFF 2x800W Performance Server (867963-AA1)
HPE ProLiant ML110 Gen10 3104 1P 8GB-R S100i 4LFF NHP SATA 350W PS DVD Entry Server (P03684-291)
HPE ProLiant ML30 Gen9 E3-1220v6 1P 8GB-U B140i 4LFF SATA 350W PS Base Server (872658-031)
HPE ProLiant DL380 Gen10 4116 1P 16GB-R P408i-a 8SFF 2x500W PS Server/Promo (875767-295)
HPE ProLiant ML350 Gen10 4110 1P 16GB-R P408i-a 8SFF 1x800W RPS Base Server (877621-031)
HPE ProLiant DL360 Gen10 5118 105W 2P 32G-2R P408i-a 8SFF 2x800W Performance Server (867963-B21)
HPE ProLiant DL560 Gen10 6126 2P 64GB-R P408i-a 8SFF 4x800W PS Server/S-Buy (840373-S01)
HPE ProLiant BL460c Gen10 Intel Xeon-G 6152 1P 16G-2R Server (Q8T39A)
HPE ProLiant DL560 Gen10 8170 4P 256GB-R P816i-a 16SFF 2x1600W PS Perf Server (840371-291)
HPE ProLiant ML350 Gen9 E5-2620v4 1P 16GB-R P440ar 8SFF 2x800W PS Server (859040-375)
HPE ProLiant DL380 Gen10 3106 1P 16GB-R S100i 8SFF 500W PS Entry SATA Server (826564-B21)
HPE ProLiant DL325 Gen10 7401P 1P 32GB-R P408i-a 8SFF 1x800W PS Performance Server (P04648-291)
HPE ProLiant ML110 Gen10 3104 1P 8GB-R S100i 4LFF NHP 550W PS Server/S-Buy (880227-S01)
HPE ProLiant DL360 Gen10 4114 85W 1P 32G-2R P408i-a 8SFF 2x500W Server/Promo (875846-375)
HPE ProLiant ML30 Gen9 E3-1220v6 8GB-U B140i 4LFF 350W PS Server/S-Buy (873507-001)
HPE ProLiant ML30 Gen9 E3-1240v6 1P 16GB-U 8SFF 460W RPS Solution Server (P03707-375)
HPE ProLiant DL20 Gen9 E3-1240v6 8GB-U B140i 2LFF 290W PS Server/S-Buy (873559-001)
HPE ProLiant ML30 Gen9 E3-1240v6 1P 16GB-U 8SFF 460W RPS Solution Server (P03707-291)
HPE ProLiant ML30 Gen9 E3-1220v6 1P 8GB-U B140i 4LFF SATA 350W PS Base Server (872658-371)
HPE ProLiant ML30 Gen9 E3-1220v6 8GB-U B140i 4LFF 350W PS 2TB Server/GO (873231-425)
HPE ProLiant DL20 Gen9 E3-1220v6 16GB-U B140i 2LFF 290W PS 2TB HDD DVD-RW Svr/Promo (872876-375)
HPE ProLiant ML350 Gen9 E5-2620v4 16GB-R P440ar 8SFF 500W PS Base Server (835263-001)
HPE ProLiant DL380 Gen10 4110 1P 16GB-R P408i-a 8SFF 500W PS Performance Server (P06420-291)
HPE ProLiant DL380 Gen10 4114 1P 32GB-R P408i-a 8SFF 500W PS Base Server (826565-B21)
HPE ProLiant DL360 Gen10 4110 85W 1P 16G-2R P408i-a 8SFF 1x500W Server/Promo (875845-295)
HPE ProLiant DL20 Gen9 E3-1240v6 16GB-U H240 4SFF 900W RPS Server/S-Buy (873560-001)
HPE ProLiant DL380 Gen10 5118 2P 64GB-R P408i-a 8SFF 2x800W PS Performance Server (826566-291)
HPE ProLiant DL380 Gen10 6130 96W 2P 16G-2R P408i-a 8SFF 1x800W PS Server (Q8T87A)
HPE ProLiant DL380 Gen10 3106 1P 16GB-R P408i-a 8SFF 500W PS Server/GO (875670-425)
HPE ProLiant DL380 Gen10 4110 1P 16GB-R P408i-a 8SFF 500W PS Server/TV (875668-425)
HPE ProLiant DL560 Gen10 6130 2P 64GB-R P408i-a 8SFF 2x1600W PS Entry Server (875807-AA1)
HPE ProLiant DL360 Gen10 4114 85W 1P 16G-2R P408i-a 8SFF 1x500W Base Server (867962-AA1)
HPE ProLiant ML110 Gen10 3104 1P 8GB-R 4LFF 350W PS Server (Q9G54A)
HPE ProLiant DL360 Gen10 5118 105W 1P 32G-2R P408i-a 8SFF 2x800W Server/S-Buy (874461-S01)
HPE ProLiant DL20 Gen9 2LFF Configure-to-order Server (819785-B21)
HPE ProLiant ML30 Gen9 E3-1220v6 8GB-U B140i 4LFF 350W PS 1TB Server/TV (873230-425)
HPE ProLiant ML110 Gen10 3104 1P 8GB-R S100i 4LFF NHP SATA 350W PS DVD Entry Server (P03684-S01)
HPE ProLiant ML350 Gen9 E5-2609v4 1P 16GB-R P440ar 8SFF 500W PS Server/GO (835849-425)
HPE ProLiant DL380 Gen10 6148 2P 64GB-R P408i-a 8SFF 2x800W PS Server/S-Buy (875764-S01)
HPE ProLiant DL20 Gen9 E3-1240v6 16GB-U H240 4SFF 900W RPS Performance Server (871431-B21)
HPE ProLiant ML350 Gen9 E5-2609v4 1P 8GB-R B140i 8LFF 500W PS Entry Server (835262-421)
HPE ProLiant XL2x260w Single-width 1P 1.2m 2x Server Compute Tray (851659-B21)
HPE ProLiant ML350 Gen10 3106 1P 16GB-R S100i 4LFF 1x500W RPS Entry SATA Server (877620-031)
HPE ProLiant DL560 Gen10 8170 4P 256GB-R P816i-a 16SFF 2x1600W PS Perf Server (840371-AA1)
HPE ProLiant ML30 Gen9 E3-1220v6 8GB-U B140i 4LFF 350W PS Server/S-Buy (873227-S05)
HPE ProLiant ML350 Gen10 4110 1P 16GB-R E208i-a 8SFF 1x800W RPS Solution Server (P04674-291)
HPE ProLiant ML350 Gen10 5118 2P 32GB-R P408i-a 8SFF 2x800W RPS Perf Server (877623-001)
HPE ProLiant ML110 Gen10 4108 1P 16GB-R S100i 4LFF Hot Plug 550W PS Perf Server (P03686-291)
HPE ProLiant DL560 Gen10 8164 4P 256GB-R P816i-a 16SFF 2x1600W PS Perf Server (880173-291)
HPE ProLiant ML110 Gen10 3104 1P 8GB-R S100i 4LFF 350W PS Server/Promo (880718-295)
HPE ProLiant DL360 Gen10 6130 125W 2P 64G-2R P408i-a Premium 10NVMe 2x800W Hi-Perf Svr (867964-AA1)
HPE ProLiant ML350 Gen9 E5-2609v4 1P 8GB-R P440ar 8LFF 500W PS Server/S-Buy (835850-S01)
HPE ProLiant ML350 Gen10 4116 1P 16GB-R P408i-a 8SFF 2x800W RPS Server/S-Buy (878767-S01)
HPE ProLiant DL325 Gen10 7251 1P 8GB-R E208i-a 4LFF 500W PS Entry Server (P04646-AA1)
HPE ProLiant ML110 Gen10 4110 1P 16GB-R S100i 4LFF SATA 550W PS Perf Server (878452-291)
HPE ProLiant DL360 Gen10 6130 125W 2P 64G-2R P408i-a Premium 10NVMe 2x800W High Perf Svr (879991-B21)
HPE ProLiant ML350 Gen9 Hot Plug 8SFF Configure-to-order Tower Server (754536-B21)
HPE ProLiant ML30 Gen9 E3-1220v6 1P 8GB-U B140i 4LFF 350W PS DVD Perf Server (P03705-S01)
HPE ProLiant DL20 Gen9 E3-1220v6 16GB-U B140i 2LFF Non-hot Plug 290W PS Server/GO (872873-425)
HPE ProLiant ML110 Gen10 3104 1P 8GB-R S100i 4LFF NHP SATA 350W PS Entry Server (878450-421)
HPE ProLiant DL380 Gen10 4112 96W 2P 16G-2R P408i-a 8SFF 1x500W PS Server (Q8T91A)
HPE ProLiant ML30 Gen9 E3-1240v6 1P 8GB-U B140i 4LFF SATA 460W RPS Perf Server (872659-AA1)
HPE ProLiant ML30 Gen9 E3-1220v6 8GB-U B140i 4LFF 350W PS Server/S-Buy (873227-001)
HPE ProLiant ML350 Gen9 E5-2620v4 1P 8GB-R P440ar 8SFF 800W PS ES Server/Promo (835858-295)
HPE ProLiant ML30 Gen9 E3-1230v5 1P 8GB-R B140i SATA 460W PS Server/TV (P9U51A)
HPE ProLiant ML350 Gen10 4114 2P 32GB-R P408i-a 8SFF 2x800W RPS Perf Rack Server (877622-031)
HPE ProLiant DL360 Gen10 4110 1P 16GB-R P408i-a 8SFF 500W RPS Solution Server (P05520-291)
HPE ProLiant DL380 Gen10 5120 2P 64GB-R P408i-a+Expander 24SFF 2x800W PS Server (875774-S05)
HPE ProLiant ML110 Gen10 4108 1P 16GB-R S100i 4LFF Hot Plug 550W PS Perf Server (P03686-375)
HPE ProLiant DL20 Gen9 E3-1270v5 1P 8GB-U Non-hot Plug 2LFF 290W PS Server (Q0K03A)
HPE ProLiant DL560 Gen10 6148 4P 128GB-R P408i-a 8SFF 2x1600W PS Base Server (840370-AA1)
HPE ProLiant ML110 Gen10 3106 1P 16GB-R S100i 4LFF Hot Plug 550W PS Perf Server (P03685-291)
HPE ProLiant ML350 Gen10 4114 2P 32GB-R P408i-a 8SFF 2x800W RPS Perf Rack Server (877622-371)
HPE Synergy 660 Gen10 5118 2P 64GB-R S100i SATA Entry Compute Module (871934-B21)
HPE ProLiant ML110 Gen10 3104 1P 8GB-R S100i 4LFF NHP 1TB 350W PS Server/Promo (880647-375)
HPE ProLiant DL380 Gen10 4108 1P 16GB-R P408i-a 8SFF 3x300GB 1x500W PS Server/Promo (875768-295)
HPE ProLiant ML110 Gen10 4112 1P 8GB-R 4LFF 500W PS Server (Q9G58A)
HPE ProLiant DL360 Gen10 6136 150W 1P 32G-2R P408i-a 8SFF 2x800W Server/S-Buy (874456-S01)
HPE ProLiant ML30 Gen9 E3-1220v6 1P 8GB-U B140i 4LFF SATA 350W PS Base Server (872658-421)
HPE ProLiant DL580 Gen10 5118 2P 32GB-R P408i-p 8SFF 2x1600W PS Entry Server (869853-AA1)
HPE ProLiant ML110 Gen10 4110 1P 16GB-R 8SFF 800W RPS Solution Server (P03687-375)
HPE ProLiant DL360 Gen10 6130 125W 2P 64G-2R P408i-a Premium 10NVMe 2x800W Hi-Perf Svr (867964-291)
HPE ProLiant ML350 Gen10 3104 1P 8GB-R S100i 4LFF NHP 500W PS Sub Entry SATA Server (877619-371)
HPE ProLiant DL20 Gen9 G4560 8GB-U 2LFF Non-hot Plug 290W PS Entry Server (871428-291)
HPE ProLiant ML30 Gen9 E3-1220v6 1P 8GB-U B140i 4LFF NHP 350W PS Entry Server (P03704-S01)
HPE ProLiant DL380 Gen10 5118 1P 64GB-R P408i-a 8SFF 800W RPS Performance Server (P06422-291)
HPE ProLiant ML350 Gen9 E5-2650v4 2P 32GB-R P440ar 8SFF 2x800W PS Perf Server (835265-031)
HPE ProLiant DL360 Gen10 4114 85W 1P 32G-2R P408i-a 8SFF 2x300G HDD 2x500W Server/GO (876100-425)
HPE ProLiant ML30 Gen9 E3-1220v6 8GB-U B140i 4LFF 350W PS 1TB Server/TV (873230-035)
HPE ProLiant DL380 Gen10 4110 1P 32GB-R P816i-a 12LFF 2x800W PS Base Server (868710-B21)
HPE ProLiant DL360 Gen10 4110 85W 1P 16G-2R P408i-a 8SFF 1x500W Server/S-Buy (874457-S01)
HPE ProLiant ML350 Gen10 3106 1P 16GB-R S100i 4LFF 1x500W RPS Entry SATA Server (877620-AA1)
HPE Synergy 480 Gen10 6130 2P 64GB-R P204i-c SAS Performance Compute Module (871943-B21)
HPE ProLiant DL580 Gen10 6130 2P 64GB-R P408i-p 8SFF 2x1600W PS Base Server (869851-AA1)
HPE ProLiant DL380 Gen10 6130 2P 64GB-R P408i-a 8SFF 2x800W PS Performance Server (879938-B21)
HPE ProLiant ML350 Gen9 E5-2609v4 1P 8GB-R B140i 8LFF 500W PS Entry Server (835262-AA1)
HPE ProLiant ML350 Gen10 4108 1P 32GB-R E208i-a 8LFF 1x800W RPS Server/S-Buy (879817-S05)
HPE ProLiant DL325 Gen10 7251 1P 16GB-R P408i-a 8SFF 2x500W PS Solution Server (P04649-291)
HPE ProLiant DL580 Gen10 8164 4P 256GB-R P408i-p 8SFF 4x1600W PS Perf Server (869845-291)
HPE ProLiant ML350 Gen10 3104 1P 8GB-R S100i 4LFF NHP 500W PS Sub Entry SATA Server (877619-031)
HPE ProLiant ML350 Gen10 3104 1P 8GB-R S100i 4LFF NHP 500W PS Sub Entry SATA Server (877619-291)
HPE ProLiant DL360 Gen10 6130 125W 2P 64G-2R P408i-a Premium 10NVMe 2x800W Hi-Perf Svr (879991-AA1)
HPE ProLiant DL20 Gen9 E3-1240v6 8GB-U B140i 4SFF 900W RPS Server/Promo (872881-295)
HPE ProLiant DL580 Gen10 6126 2P 32GB-R P408i-p 8SFF 2x1600W PS Base Server (880396-AA1)
HPE ProLiant ML350 Gen9 E5-2620v4 1P 16GB-R P440ar 8LFF 500W PS Server/Promo (835856-AA5)
HPE ProLiant ML30 Gen9 E3-1240v6 1P 8GB-U B140i 4LFF SATA 460W RPS Perf Server (872659-421)
HPE ProLiant DL380 Gen10 6130 2P 64GB-R P408i-a 8SFF 2x800W PS Performance Server (879938-291)
HPE ProLiant ML350 Gen9 E5-2650v4 2P 32GB-R P440ar 8SFF 2x800W PS Perf Server (835265-421)
HPE ProLiant ML350 Gen10 3106 1P 16GB-R E208i-a 4LFF 500W PS Server/GO (878762-425)
HPE ProLiant DL360 Gen10 4110 1P 16GB-R P408i-a 8SFF 500W RPS Solution Server (P05520-B21)
HPE ProLiant ML350 Gen10 5118 1P 16GB-R P408i-a 8SFF 1x800W RPS Server (Q9F47A)
HPE ProLiant ML350 Gen10 4108 1P 16GB-R P408i-a 8SFF 2x300GB 2x800W RPS Server/GO (878763-425)
HPE ProLiant ML30 Gen9 E3-1240v6 1P 16GB-U 8SFF 460W RPS Solution Server (P03707-S01)
HPE ProLiant BL460c Gen10 Intel Xeon-G 5120 2P 64GB-R Server (863446-B21)
HPE ProLiant ML30 Gen9 E3-1240v6 1P 8GB-U B140i 4LFF SATA 460W RPS Perf Server (872659-291)
HPE ProLiant DL380 Gen10 5115 1P 16GB-R P408i-a 8SFF 1x500W PS Server/S-Buy (875761-S01)
HPE ProLiant DL360 Gen10 6154 96W 1P 16G-2R P408i-a 8SFF 1x800W PS Server (Q8T69A)
HPE ProLiant ML110 Gen10 4110 1P 16GB-R S100i 8SFF 800W RPS Server/S-Buy (880229-S01)
HPE ProLiant DL380 Gen10 3106 1P 16GB-R S100i 8SFF 500W PS Entry SATA Server (826564-291)
HPE ProLiant ML30 Gen9 E3-1220v6 8GB-U B140i 8SFF 460W Server/Promo (873234-295)
HPE ProLiant ML30 Gen9 E3-1220v6 1P 8GB-U B140i 4LFF 350W PS DVD Perf Server (P03705-291)
HPE ProLiant DL20 Gen9 G4560 8GB-U 2LFF Non-hot Plug 290W PS Entry Server (871428-AA1)
HPE ProLiant ML110 Gen10 4110 1P 16GB-R S100i 4LFF SATA 550W PS Perf Server (878452-421)
HPE ProLiant DL380 Gen10 6130 2P 64GB-R P408i-a 8SFF 2x800W PS Performance Server (826567-B21)
HPE ProLiant DL360 Gen10 3104 1P 8GB-R S100i 4LFF 500W PS Base Server (P01880-B21)
HPE ProLiant ML30 Gen9 E3-1220v6 1P 8GB-U B140i 4LFF NHP 350W PS Entry Server (P03704-291)
HPE ProLiant DL20 Gen9 G4400 3.3 GHz 2-core 1P 8GB-U 290W PS Server/GO (P9H93A)
HPE ProLiant ML350 Gen9 E5-2620v4 2.1GHz 8-core 1P 16GB-R SAS 600GB (2x300GB) 500W Server/TV (Q0U81A)
HPE ProLiant ML110 Gen10 4108 1P 8GB-R 4LFF 350W PS Server (Q9G55A)
HPE ProLiant ML350 Gen9 E5-2620v4 16GB-R P440ar 8SFF 500W PS Base Server (835263-AA1)
HPE ProLiant DL360 Gen10 4110 85W 1P 32G-2R P408i-a 8SFF 1x500W Server (875841-S05)
HPE ProLiant DL20 Gen9 E3-1220v6 8GB-U B140i 2LFF NHP 290W PS 1TB HDD DVD Svr/Promo (872874-375)
HPE ProLiant DL360 Gen10 6130 96W 1P 16G-2R P408i-a 8SFF 1x800W PS Server (Q8T66A)
HPE ProLiant ML350 Gen9 E5-2620v4 1P 8GB-R P440ar 8SFF 500W PS Server/S-Buy (835853-S05)
HPE ProLiant DL560 Gen10 5118 2P 128GB-R P408i-a 8SFF 4x800W PS Server/S-Buy (840372-S01)
HPE Synergy 660 Gen10 8160 4P 256GB-R P408i-c SAS Performance Compute Module (871932-B21)
HPE ProLiant ML110 Gen10 4110 1P 16GB-R S100i 4LFF SATA 550W PS Perf Server (878452-371)
HPE ProLiant DL360 Gen10 4114 85W 1P 32G-2R P408i-a 8SFF 2x500W Server/Promo (875846-295)
HPE ProLiant ML350 Gen9 E5-2630v4 1P 16GB-R P440ar 8SFF 500W PS Server/Promo (835857-AA5)
HPE ProLiant DL560 Gen10 6134 2P 64GB-R P408i-a 8SFF 4x800W PS Server/S-Buy (840374-S01)
HPE ProLiant ML350 Gen9 Hot Plug 8SFF Configure-to-order Rack Server (754534-B21)
HPE ProLiant DL580 Gen10 6132 2P 128GB-R P408i-p 8SFF 4x800W PS Entry Server/S-Buy (880397-S01)
HPE ProLiant DL360 Gen10 4108 96W 1P 16G-2R P408i-a 8SFF 1x500W PS Server (Q8T70A)
HPE ProLiant ML30 Gen9 E3-1230v6 1P 8GB-U B140i 4LFF 460W RPS DVD Perf Server (P03706-375)
HPE ProLiant DL380 Gen10 6126 1P 32GB-R P408i-a 8SFF 2x500W PS Server/S-Buy (875763-S01)
HPE ProLiant DL20 Gen9 E3-1230v6 1P 8GB-U H240 4SFF 900W PS Solution Server (P06049-B21)
HPE ProLiant XL2x260w Gen10 Server (HPEPLXL2x260wG10PRE)
HPE ProLiant ML30 Gen9 E3-1240v6 8GB-U B140i 4LFF 460W PS Server/S-Buy (873229-001)
HPE ProLiant DL380 Gen10 4114 1P 32GB-R P408i-a 8SFF 500W PS Server/TV (875669-425)
HPE ProLiant DL560 Gen10 6130 2P 64GB-R P408i-a 8SFF 2x1600W PS Entry Server (875807-291)
HPE ProLiant DL580 Gen10 5120 2P 32GB-R P408i-p 8SFF 2x1600W PS Entry Server (869852-AA1)
HPE ProLiant ML110 Gen10 3104 1P 8GB-R S100i 4LFF NHP SATA 350W PS DVD Entry Server (P03684-375)
HPE ProLiant DL380 Gen10 3104 1P 16GB-R S100i 8LFF 500W PS Entry SATA Server (P06419-291)
HPE ProLiant DL360 Gen10 5120 105W 1P 16G-2R P408i-a 8SFF 1x500W Server/Promo (875848-295)
HPE ProLiant DL380 Gen10 5118 2P 64GB-R P408i-a 8SFF 2x800W PS Performance Server (826566-B21)
HPE ProLiant ML30 Gen9 E3-1220v6 1P 8GB-U B140i 4LFF NHP 350W PS Entry Server (P03704-375)
HPE ProLiant DL360 Gen10 4110 85W 1P 16G-2R P408i-a 8SFF 1x500W Server/Promo (875845-375)
HPE ProLiant ML350 Gen10 4110 1P 16GB-R P408i-a 8SFF 1x800W RPS Base Server (877621-AA1)
HPE ProLiant DL360 Gen10 5118 105W 2P 32G-2R P408i-a 8SFF 2x800W Performance Server (867963-291)
HPE ProLiant DL325 Gen10 7401P 1P 32GB-R P408i-a 8SFF 1x800W PS Performance Server (P04648-AA1)
HPE ProLiant XL170r Gen10 Server (HPEPLXL170rG10PRE)
HPE ProLiant DL360 Gen10 4114 85W 1P 32G-2R P408i-a 8SFF 2x500W Server/TV (875839-425)
HPE ProLiant ML350 Gen9 E5-2609v4 1P 8GB-R P440ar 8LFF 800W PS ES Server/Promo (845159-295)
HPE ProLiant ML30 Gen9 E3-1230v6 1P 8GB-U B140i 4LFF 460W RPS DVD Perf Server (P03706-S01)
HPE ProLiant DL20 Gen9 E3-1230v6 1P 8GB-U H240 4SFF 900W PS Solution Server (P06016-291)
HPE ProLiant DL580 Gen10 6154 2P 128GB-R P408i-p 8SFF 4x800W PS Base Server/S-Buy (869850-S01)
HPE ProLiant DL560 Gen10 6148 4P 128GB-R P408i-a 8SFF 2x1600W PS Base Server (840370-291)
HPE ProLiant ML350 Gen10 3104 1P 16GB-R P408i-a 8SFF 1x800W RPS Server (Q9F45A)
HPE ProLiant ML30 Gen9 E3-1240v6 1P 8GB-U B140i 4LFF SATA 460W RPS Perf Server (872659-371)
HPE ProLiant DL20 Gen9 E3-1220v6 8GB-U B140i 2LFF 290W PS Base Server (871429-B21)
HPE ProLiant ML30 Gen9 E3-1220v6 1P 8GB-U B140i 4LFF SATA 350W PS Base Server (872658-291)
HPE ProLiant DL360 Gen10 5118 1P 32GB-R P408i-a 8SFF 800W RPS Performance Server (P06454-291)
HPE ProLiant ML30 Gen9 E3-1220v6 1P 8GB-U B140i 4LFF 350W PS DVD Perf Server (P03705-375)
HPE ProLiant DL360 Gen10 3106 85W 1P 16G-2R S100i 8SFF 1x500W Entry Server (867961-AA1)
HPE ProLiant DL20 Gen9 E3-1220v6 8GB-U B140i 4SFF 290W PS Server/Promo (872879-295)
HPE ProLiant BL460c Gen10 Intel Xeon-G 6140 2P 128GB-R Server (863447-B21)
HPE ProLiant DL380 Gen10 5120 1P 32GB-R P408i-a 8SFF 2x500W PS Server/S-Buy (875762-S01)
HPE ProLiant DL360 Gen10 4112 96W 1P 16G-2R P408i-a 8SFF 1x500W PS Server (Q8T71A)
HPE ProLiant DL380 Gen10 5118 96W 2P 16G-2R P408i-a 8SFF 1x500W PS Server (Q8T86A)
HPE ProLiant DL580 Gen10 8168 2P 256GB-R P408i-p 8SFF 4x800W PS Perf Server/S-Buy (869849-S01)
HPE ProLiant DL360 Gen10 3106 85W 1P 16G-2R S100i 8SFF 1x500W Entry Server (867961-291)
HPE ProLiant ML350 Gen9 Hot Plug 8LFF Configure-to-order Tower Server (754537-B21)
HPE ProLiant DL360 Gen10 4114 85W 1P 16G-2R P408i-a 8SFF 1x500W Base Server (867962-B21)
HPE ProLiant ML350 Gen9 E5-2609v4 1P 8GB-R B140i 8LFF 500W PS Entry Server (835262-001)
HPE ProLiant DL580 Gen10 6148 4P 128GB-R P408i-p 8SFF 4x1600W PS Base Server (869847-291)
HPE ProLiant ML350 Gen10 3104 1P 8GB-R S100i 4LFF NHP 500W PS Sub Entry SATA Server (877619-AA1)
HPE ProLiant ML30 Gen9 E3-1240v6 1P 16GB-U 8SFF 460W RPS Solution Server/TV (P03707-425)
HPE ProLiant ML350 Gen10 4110 1P 16GB-R P408i-a 8SFF 1x800W RPS Base Server (877621-001)
HPE ProLiant DL20 Gen9 E3-1220v6 8GB-U B140i 2LFF 290W PS DVD-RW Server/S-Buy (872868-S05)
HPE ProLiant DL360 Gen10 5118 96W 1P 16G-2R P408i-a 8SFF 1x500W PS Server (Q8T65A)
HPE ProLiant ML30 Gen9 E3-1230v6 1P 8GB-U B140i 4LFF 460W RPS DVD Perf Server (P03706-291)
HPE ProLiant DL380 Gen10 6132 2P 64GB-R P408i-a 8SFF 2x800W PS Server/S-Buy (875765-S01)