HP 726536-B21 9.5mm SATA DVD-ROM JackBlack Gen9 Optical Drive

[726536-B21]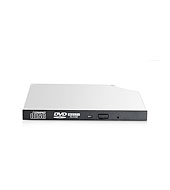 File and Object Storage
HPE ProLiant DL Servers
HPE ProLiant MicroServer
HPE ProLiant ML Servers
Random DVD-ROM < 160 ms, CD-ROM < 140 ms Full-Stroke DVD-ROM < 300 ms, CD-ROM < 275 ms
DVD-ROM (Up to 8X) DVD+R/-R (Up to 8X) DVD+RW (Up to 8X) DVD-RW (Read) (Up to 8X) DVD-RW (Write) (Up to 6X) DVD+R DL/-R DL (Read) (Up to 8X) DVD+R DL/-R DL (Write) (Up to 6X) DVD-RAM (Up to 5X) CD-ROM/-R (Up to 24X) CD-RW (Write) (Up to 16X)
The warranty for this device is 1-year parts only. Maximum: The remaining warranty of the HPE server product in which it is installed (to a maximum three-year limited warranty).
https://www.hpe.com/h20195/v2/gethtml.aspx?docname=a00022531enw
https://www.hpe.com/h20195/v2/GetDocument.aspx?docname=a00022531enw
Microsoft is either a registered trademark or trademark of Microsoft Corporation in the United States and/or other countries. All other third-party trademark(s) is/are property of their respective owner(s).
HPE ProLiant DL380 Gen9 E5-2620v4 1P 16GB-R P440ar 8SFF 500W PS Server/GO (843557-425)
HPE ProLiant DL160 Gen9 E5-2609v4 1P 16GB-R H240 8SFF 550W PS Server/GO (830585-425)
HPE ProLiant DL20 Gen9 E3-1220v6 8GB-U B140i 4SFF 290W PS Server/Promo (872879-295)
HPE ProLiant MicroServer Gen10 X3216 8GB-U 1TB 4LFF NHP SATA 200W PS Entry Server (870208-421)
HPE ProLiant DL380 Gen9 Special Server (P9D77A)
HPE ProLiant ML350 Gen9 E5-2630v4 1P 16GB-R P440ar 8SFF 500W PS Server/S-Buy (835854-S05)
HPE ProLiant DL180 Gen9 E5-2609v4 8GB-R B140i 8SFF 900W PS Server/Promo (833990-295)
HPE ProLiant DL380 Gen9 E5-2650v4 2.2GHz 12-core 16GB-R P440ar 8SFF 800W Server (P9V59A)
HPE ProLiant DL20 Gen9 E3-1240v6 8GB-U B140i 2LFF 290W PS Server/Promo (872878-295)
HPE ProLiant ML350 Gen10 4110 1P 16GB-R P408i-a 8SFF 1x800W RPS Base Server (877621-031)
HPE ProLiant DL120 Gen9 E5-2603v4 8GB-R B140i 4LFF SATA 900W PS Server/Promo (839306-295)
HPE ProLiant DL380 Gen9 E5-2620v3 1P 16GB-R P440ar 8SFF 2x300GB 500W PS Server/GO (768347-425)
HPE ProLiant ML110 Gen10 3104 1P 8GB-R S100i 4LFF NHP SATA 350W PS Entry Server (878450-031)
HPE ProLiant DL160 Gen9 Special Server (860102-S01)
HPE ProLiant DL325 Gen10 7251 1P 16GB-R P408i-a 8SFF 2x500W PS Solution Server (P04649-291)
HPE ProLiant DL360 Gen9 E5-2620v3 1P 16GB-R P440ar 500W PS Base SAS Server/GO (774437-425)
HPE ProLiant DL120 Gen9 E5-2609v4 8GB-R B140i 4LFF SATA 550W PS Server/Promo (839304-AA5)
HPE ProLiant DL380 Gen10 3106 1P 16GB-R P408i-a 8SFF 500W PS Server/GO (875670-425)
HPE ProLiant ML30 Gen9 E3-1240v6 1P 8GB-U B140i 4LFF SATA 460W RPS Perf Server (872659-371)
HPE ProLiant DL360 Gen10 5118 1P 32GB-R P408i-a 8SFF 800W RPS Performance Server (P06454-291)
HPE DL160 Gen9 E5-2603v4 1P 8GB-R B140i 4LFF 550W PS Entry Server (830570-B21)
HPE ProLiant ML350 Gen10 3104 1P 8GB-R S100i 4LFF NHP 500W PS Sub Entry SATA Server (877619-AA1)
HPE ProLiant ML110 Gen10 4110 1P 16GB-R S100i 4LFF SATA 550W PS Perf Server (878452-371)
HPE ProLiant DL20 Gen9 Non-hot Plug 2LFF Configure-to-order Server (819784-B21)
HPE ProLiant ML150 Gen9 E5-2620v4 16GB-R H240 Hot Plug 8SFF SAS 900W Perf Svr (834608-291)
HPE ProLiant DL160 Gen9 E5-2620v4 1P 8GB-R B140i 8SFF 1x900W PS Server/Promo (830587-295)
HPE ProLiant DL380 Gen9 E5-2620v3 1P 8GB-R P440ar 8SFF 500W PS Server/Promo (777352-295)
HPE ProLiant ML110 Gen9 E5-1620v4 8GB-R B140i 4LFF 1x1TB 550W PS Server/S-Buy (840667-S01)
HPE ProLiant DL380 Gen9 E5-2670v3 2P 64GB-R P440ar 8SFF 2x10Gb 2x800W PS Server/S-Buy (784655-S01)
HPE ProLiant DL360 Gen9 E5-2680v4 2P 64GB-R P440ar 8SFF 2x800W RPS SAS Server/S-Buy (850366-S01)
HPE ProLiant DL380 Gen9 E5-2630v4 1P 16GB-R P440ar 8SFF 500W PS Base Server (848774-291)
HPE ProLiant DL380 Gen10 4108 1P 16GB-R P408i-a 8SFF 3x300GB 1x500W PS Server/Promo (875768-295)
HPE ProLiant ML30 Gen9 E3-1240v6 8GB-U B140i 4LFF 460W PS Server/S-Buy (873229-001)
HPE ProLiant DL385 Gen10 7251 1P 16GB-R E208i-a 8SFF SATA 500W PS Server/GO (P00208-425)
HPE DL160 Gen9 E5-2603v4 1P 8GB-R H240 8SFF 550W PS Entry Server (830571-291)
HPE ProLiant MicroServer Gen10 X3216 1P 8GB-U 4LFF NHP SATA 200W PS Entry Server (873830-S01)
HPE ProLiant ML30 Gen9 E3-1230v6 1P 8GB-U B140i 4LFF 460W RPS DVD Perf Server (P03706-291)
HPE ProLiant ML30 Gen9 E3-1220v6 8GB-U B140i 4LFF 350W PS Server/S-Buy (873227-S05)
HPE ProLiant DL380 Gen9 E5-2620v3 2P 64GB-R SAS 600GB 800W RPS Server/TV (L3L00A)
HPE ProLiant DL360 Gen9 E5-2609v4 1P 16GB-R P440ar 8SFF 500W PS Server (844986-AA5)
HPE DL160 Gen9 E5-2620v4 1P 16GB-R H240 8SFF 550W PS Base Server (830572-AA1)
HPE ProLiant DL380 Gen9 E5-2697v4 2.3GHz 18-core 16GB-R P440ar 8SFF 800W Server (P9V61A)
HPE ProLiant DL385 Gen10 7301 1P 32GB-R P408i-a 24SFF SAS 500W PS Server/S-Buy (P00325-S01)
HPE StoreEasy 1450 Storage (K2R11A)
HPE ProLiant DL360 Gen9 E5-2670v3 2P 64GB P440ar 8SFF 2x10Gb-T 2x800W OneView Server (795236-291)
HPE ProLiant DL180 Gen9 E5-2603v4 8GB-R B140i 4LFF NHP 550W PS Entry Server (833970-B21)
HPE ProLiant ML350 Gen9 Hot Plug 8SFF Configure-to-order Rack Server (754534-B21)
HPE ProLiant DL20 Gen9 E3-1220v6 16GB-U B140i 2LFF Non-hot Plug 290W PS Server/TV (872872-425)
HPE StoreEasy 1650 WSS2016 Storage (Q0F49A)
HPE ProLiant ML150 Gen9 E5-2603v4 8GB-R B140i NHP 4LFF SATA 550W Entry Svr (834606-421)
HPE ProLiant DL380 Gen9 4LFF Configure-to-order Server (767033-B21)
HPE ProLiant ML350 Gen10 4108 1P 16GB-R P408i-a 8SFF 1x800W RPS Server (Q9F46A)
HPE ProLiant DL120 Gen9 E5-1620v4 1P 8GB-R 8SFF B140i/ZM RPS Server (Q0J81A)
HPE ProLiant DL380 Gen9 E5-2699v4 2.2GHz 22-core 16GB-R P440ar 8SFF 800W Server (P9V62A)
HPE ProLiant DL380 Gen9 E5-2650v4 1P 32GB-R P440ar 8SFF 2x500W PS Server/SB (850519-S01)
HPE ProLiant DL180 Gen9 E5-2620v4 8GB-R B140i 8SFF 900W PS Server/Promo (848832-295)
HPE ProLiant DL360 Gen10 4110 85W 1P 16G-2R P408i-a 8SFF 2x300G HDD 1x500W Server/GO (875840-425)
HPE ProLiant MicroServer Gen10 X3216 8GB-U 1TB 4LFF NHP SATA 200W PS Entry Server (870208-371)
HPE ProLiant DL385 Gen10 7251 1P 16GB-R E208i-a 8SFF SATA 500W PS Entry Server (878714-AA1)
HPE ProLiant ML350 Gen9 E5-2620v4 16GB-R P440ar 8SFF 500W PS Base Server (835263-031)
HPE ProLiant DL60 Gen9 4LFF Configure-to-order Server (777403-B21)
HPE ProLiant DL580 Gen10 8168 2P 256GB-R P408i-p 8SFF 4x800W PS Perf Server/S-Buy (869849-S01)
HPE StoreEasy 1650 Storage (K2R15A)
HPE ProLiant DL360 Gen9 E5-2630v3 1P 16GB-R P440ar 8SFF 500W PS Base SAS Server (755262-B21)
HPE ProLiant ML150 Gen9 Hot Plug 8SFF Configure-to-order Server (767064-B21)
HPE ProLiant ML350 Gen10 5118 2P 32GB-R P408i-a 8SFF 2x800W RPS Perf Server (877623-371)
HPE ProLiant DL380 Gen9 E5-2609v3 1P 8GB-R B140i 4LFF SATA 500W PS Entry Server (766342-B21)
HPE ProLiant DL380 Gen9 E5-2620v4 1P 16GB-R P840ar 12LFF 2x800W PS Server/S-Buy (867449-S01)
HPE ProLiant ML150 Gen9 E5-2603v4 8GB B140i 550W Hot Plug 4LFF SATA Svr/S-Buy (834617-S05)
HPE ProLiant DL360 Gen10 4116 85W 2P 64G-2R P408i-a 8SFF 2x800W Server (875844-005)
HPE ProLiant DL380 Gen9 E5-2640v4 1P 16GB-R P440ar 8SFF 500W PS Server/S-Buy (867450-S01)
HPE StoreEasy 1450 8TB SATA WSS2016 Storage (Q1J33A)
HPE ProLiant ML350 Gen9 E5-2630v4 1P 8GB-R P440ar 8LFF 800W PS ES Server/Promo (835861-295)
HPE ProLiant DL360 Gen10 4114 85W 1P 32G-2R P408i-a 8SFF 2x500W Server/Promo (875846-295)
HPE ProLiant ML30 Gen9 E3-1240v6 1P 8GB-U B140i 4LFF SATA 460W RPS Perf Server (872659-421)
HPE ProLiant ML30 Gen9 G4600 8GB-U B140i 4LFF Non-hot-plug 350W Svr/Promo (873236-295)
HPE ProLiant DL360 Gen10 4114 85W 1P 16G-2R P408i-a 8SFF 1x500W Base Server (867962-291)
HPE ProLiant DL360 Gen9 E5-2670v3 2P 64GB P440ar 8SFF 2x10Gb-T 2x800W OneView Server (795236-AA1)
HPE ProLiant DL380 Gen9 E5-2643v4 1P 32GB-R P440ar 8SFF 500W PS Server/SB (850518-S01)
HPE ProLiant DL360 Gen10 5118 105W 1P 32G-2R P408i-a 8SFF 2x800W Server/S-Buy (874461-S01)
HPE ProLiant DL580 Gen10 5118 2P 32GB-R P408i-p 8SFF 2x1600W PS Entry Server (869853-AA1)
HPE ProLiant MicroServer Gen10 X3421 1P 8GB-U 4LFF NHP SATA 200W PS Soln Server (P04923-291)
HPE ProLiant ML110 Gen9 E5-2603v4 8GB-R B140i 4LFF 1x1TB 350W PS Server/Promo (840678-AA5)
HPE ProLiant ML110 Gen10 3104 1P 8GB-R S100i 4LFF NHP SATA 350W PS DVD Entry Server (P03684-375)
HPE ProLiant DL180 Gen9 E5-2603v4 1.7GHz 6-core 8GB-R H240 8SFF 900W Server (Q0C63A)
HPE ProLiant DL380 Gen10 6130 2P 64GB-R P408i-a 8SFF 2x800W PS Performance Server (879938-291)
HPE ProLiant DL160 Gen9 E5-2620v4 2.1GHz 8-core 8GB-R 8SFF 550W Server (Q0C69A)
HPE ProLiant ML350 Gen9 2xE5-2630v4 2P 32GB-R P440ar 8SFF 2x800W PS Perf ES Rack Server (835264-001)
HPE ProLiant DL360 Gen10 5120 105W 1P 16G-2R P408i-a 8SFF 1x500W Server/Promo (875848-295)
HPE ProLiant MicroServer Gen10 X3421 8GB-U 1TB 4LFF NHP SATA 200W PS Server (878487-001)
HPE StoreEasy 1550 8TB SATA Storage (K2R64A)
HPE ProLiant DL380 Gen9 Special Server (P1N14C)
HPE ProLiant ML150 Gen9 E5-2620v4 16GB-R H240 Hot Plug 8SFF SAS 900W Perf Svr (834608-031)
HPE ProLiant ML110 Gen9 E5-2609v4 8GB-R B140i 4LFF 1x1TB 350W PS Server/Promo (840677-AA5)
HPE ProLiant ML350 Gen10 3106 1P 16GB-R S100i 4LFF 1x500W RPS Entry SATA Server (877620-291)
HPE ProLiant DL380 Gen9 Special Server (H9Q45A)
HPE ProLiant ML350 Gen10 4110 1P 16GB-R E208i-a 8SFF 1x800W RPS Solution Server (P04674-375)
HPE ProLiant ML150 Gen9 E5-2620v4 2P 2x8GB H240 900W Hot Plug 8SFF SAS Svr/S-Buy (834619-S01)
HPE ProLiant DL120 Gen9 E5-2603v4 1.7GHz 6-core 8GB-R H240 4LFF 550W Server (Q0C67A)
HPE ProLiant ML110 Gen10 4108 1P 16GB-R S100i 4LFF 550W PS Server/S-Buy (880228-S01)
HPE ProLiant DL560 Gen9 E5-4620v3 2P 64GB-R P440ar/2GB 8SFF 2x1200W RPS Base Server (741065-B21)
HPE ProLiant ML350 Gen9 E5-2620v4 2.1GHz 8-core 1P 16GB-R SAS 600GB (2x300GB) 500W Server/TV (Q0U81A)
HPE ProLiant DL360 Gen9 E5-2630v4 1P 16GB-R P440ar 8SFF 500W PS Base SAS Server (818208-B21)
HPE ProLiant DL180 Gen9 E5-2609v4 8GB-R H240 8SFF 550W PS Base Server (833973-291)
HPE ProLiant ML350 Gen10 4114 2P 32GB-R P408i-a 8SFF 2x800W RPS Perf Rack Server (877622-371)
HPE ProLiant DL380 Gen9 E5-2620v3 2.4GHz 6-core 1P 16GB-R P840/4GB 12LFF 2x800W PS Base Server (752688-B21)
HPE ProLiant DL380 Gen10 4110 1P 16GB-R P408i-a 8SFF 500W PS Performance Server (P06420-291)
HPE DL160 Gen9 E5-2603v4 1P 8GB-R B140i 4LFF 550W PS Entry Server (830570-291)
HPE ProLiant ML350 Gen10 4110 1P 16GB-R E208i-a 8SFF 1x800W RPS Solution Server (P04674-291)
HPE ProLiant ML30 Gen9 E3-1220v6 8GB-U B140i 4LFF 350W PS Server/S-Buy (873507-001)
HPE StoreEasy 1850 WSS2016 Storage (Q0F51A)
HPE ProLiant DL380 Gen9 E5-2609v4 1P 8GB-R B140i 8SFF 500W PS Entry SATA Server (826681-291)
HPE ProLiant DL160 Gen9 Hot Plug 4LFF Configure-to-order Server (754521-B21)
HPE ProLiant DL180 Gen9 E5-2609v4 1.7GHz 8-core 8GB-R 8LFF 550W Server (Q0C64A)
HPE ProLiant ML110 Gen9 E5-1620v4 8GB-R B140i 4LFF 550W PS Server/Promo (840681-295)
HPE ProLiant DL360 Gen10 3106 85W 1P 16G-2R S100i 8SFF 1x500W Entry Server (867961-AA1)
HPE ProLiant DL360 Gen9 E5-2660v4 2P 64GB-R P440ar 8SFF 800W RPS Perf2 SAS Server (851937-AA1)
HPE ProLiant ML110 Gen9 E5-2620v4 16GB-R B140i 4LFF 1x2TB 350W PS Server/S-Buy (840671-S05)
HPE ProLiant DL380 Gen10 4116 1P 16GB-R P408i-a 8SFF 2x500W PS Server/Promo (875767-295)
HPE ProLiant ML30 Gen9 E3-1220v6 8GB-U B140i 4LFF 460W Server/Promo (873233-375)
HPE ProLiant DL380 Gen9 E5-2660v4 2P 64GB P440ar 8SFF 800W PS Server/S-Buy (859083-S01)
HPE ProLiant ML350 Gen9 E5-2630v4 1P 8GB-R P440ar 8SFF 800W PS ES Server/Promo (835860-295)
HPE ProLiant ML110 Gen10 3106 1P 16GB-R S100i 4LFF Hot Plug 550W PS Perf Server (P03685-291)
HPE ProLiant ML30 Gen9 E3-1220v6 1P 8GB-U B140i 4LFF 350W PS DVD Perf Server (P03705-375)
HPE ProLiant DL20 Gen9 E3-1220v6 8GB-U B140i 2LFF 290W PS Base Server (871429-291)
HPE ProLiant DL380 Gen10 4110 1P 16GB-R P408i-a 8SFF 500W PS Server/GO (875671-425)
HPE ProLiant DL360 Gen9 4LFF Configure-to-order Server (755259-B21)
HPE ProLiant DL380 Gen9 E5-2660v4 2P 64GB-R P440ar 8SFF 2x10Gb 2x800W Perf Server (852432-291)
HPE ProLiant ML110 Gen10 3104 1P 8GB-R S100i 4LFF NHP SATA 350W PS DVD Entry Server (P03684-S01)
HPE ProLiant ML110 Gen10 3104 1P 8GB-R S100i 4LFF NHP SATA 350W PS Entry Server (878450-001)
HPE ProLiant DL380 Gen9 Special Server (M5R81A)
HPE ProLiant DL180 Gen9 E5-2603v4 1.7GHz 6-core 8GB-R H240 8LFF 900W Server (Q0C62A)
HPE ProLiant ML110 Gen9 E5-2603v4 8GB-R B140i 4LFF 1x2TB 550W PS Server/S-Buy (840668-001)
HPE ProLiant ML350 Gen9 Hot Plug 8LFF Configure-to-order Tower Server (754537-B21)
HPE ProLiant DL360 Gen9 E5-2630v3 1P 32GB-R P440ar 500W PS Base SAS Server (780416-AA5)
HPE ProLiant DL385 Gen10 7251 1P 16GB-R E208i-a 8SFF SATA 500W PS Entry Server (878714-291)
HPE ProLiant DL380 Gen9 E5-2650v4 2P 32GB-R P440ar 8SFF 2x10Gb 2x800W Perf Server (826684-B21)
HPE ProLiant DL380 Gen9 E5-2690v3 2P 32GB-R P440ar 8SFF 2x10Gb 2x800W High Perf Server (803860-B21)
HPE ProLiant ML30 Gen9 E3-1220v6 1P 8GB-U B140i 4LFF SATA 350W PS Base Server (872658-001)
HPE StoreEasy 1550 4TB SATA Storage (K2R63A)
HPE ProLiant DL325 Gen10 7401P 1P 32GB-R P408i-a 8SFF 1x800W PS Performance Server (P04648-AA1)
HPE ProLiant DL360 Gen9 E5-2603v4 1P 8GB-R H240ar 8SFF 500W PS Entry SAS Server (818207-AA1)
HPE ProLiant ML150 Gen9 E5-2640v4 2P 2x16GB H240 900W Hot Plug 8SFF SAS Svr/S-Buy (834620-S01)
HPE ProLiant DL380 Gen10 4108 1P 16GB-R P408i-a 8SFF 1x500W PS Server/Promo (875769-375)
HPE ProLiant MicroServer Gen10 X3216 8GB-U 1TB 4LFF NHP SATA 200W PS Entry Server (870208-AA1)
HPE ProLiant DL380 Gen10 3104 1P 16GB-R S100i 8LFF 500W PS Entry SATA Server (P06419-291)
HPE ProLiant ML110 Gen9 E5-2609v4 8GB-R B140i 4LFF 750W PS Server/Promo (840680-295)
HPE ProLiant DL360 Gen9 E5-2603v3 1P 8GB-R H240ar 8SFF 500W PS Entry SAS Server (755261-291)
HPE ProLiant DL385 Gen10 7451 2P 64GB-R P408i-a 8SFF SAS 2x800W PS Perf Server (878722-291)
HPE ProLiant DL380 Gen9 Special Server (M5S37A)
HPE ProLiant ML350 Gen9 E5-2609v4 1P 8GB-R B140i 8LFF 500W PS Entry Server (835262-421)
HPE ProLiant ML150 Gen9 E5-2603v4 8GB H240 900W Hot Plug 8SFF SAS Svr/Promo (834623-295)
HPE ProLiant DL360 Gen10 5118 105W 2P 32G-2R P408i-a 8SFF 2x800W Performance Server (867963-291)
HPE ProLiant DL380 Gen9 E5-2650v3 2P 32GB-R P440ar 8SFF 2x10Gb 2x800W Perf Server (752689-B21)
HPE ProLiant DL380 Gen10 5118 96W 2P 16G-2R P408i-a 8SFF 1x500W PS Server (Q8T86A)
HPE ProLiant DL360 Gen9 E5-2603v3 1P 8GB-R P440ar 500W PS Entry SAS Server (780026-295)
HPE ProLiant ML350 Gen9 E5-2620v4 1P 16GB-R P440ar 8SFF 2x800W PS Server (859040-375)
HPE ProLiant DL380 Gen10 4108 1P 16GB-R P408i-a 8SFF 3x300GB 1x500W PS Server/Promo (875768-375)
HPE ProLiant DL360 Gen9 E5-2609v4 1P 8GB-R H240ar 8SFF 500W Server/S-Buy (873831-S01)
HPE StoreEasy 1850 9.6TB SAS Storage (K2R20A)
HPE ProLiant ML350 Gen9 E5-2603v4 1P 8GB-R P440ar 8SFF 800W PS ES Server/Promo (835859-295)
HPE ProLiant DL380 Gen10 6132 2P 64GB-R P408i-a 8SFF 2x800W PS Server/S-Buy (875765-S01)
HPE ProLiant DL380 Gen9 E5-2640v4 2.4GHz 10-core 16GB-R P440ar 8SFF 800W Server (P9V58A)
HPE StoreEasy 1850 14.4TB SAS Storage (K2R21A)
HPE ProLiant DL560 Gen10 6126 2P 64GB-R P408i-a 8SFF 4x800W PS Server/S-Buy (840373-S01)
HPE ProLiant DL360 Gen9 E5-2630v3 1P 16GB-R P440ar 8SFF 500W PS Base SAS Server (755262-AA1)
HPE ProLiant ML150 Gen9 E5-2603v4 8GB-R B140i NHP 4LFF SATA 550W Entry Svr (834606-031)
HPE ProLiant DL380 Gen10 6142 96W 2P 16G-2R P408i-a 8SFF 1x800W PS Server (Q8T89A)
HPE ProLiant ML110 Gen10 3104 1P 8GB-R S100i 4LFF NHP SATA 350W PS Entry Server (878450-421)
HPE ProLiant MicroServer Gen10 X3421 1P 8GB-U 4LFF NHP SATA 200W PS Soln Server (P04923-S01)
HPE ProLiant ML350 Gen9 E5-2620v4 16GB-R P440ar 8SFF 500W PS Base Server (835263-421)
HPE ProLiant ML110 Gen10 4108 1P 16GB-R S100i 4LFF Hot Plug 550W PS Perf Server (P03686-291)
HPE ProLiant DL560 Gen10 5118 2P 128GB-R P408i-a 8SFF 4x800W PS Server/S-Buy (840372-S01)
HPE ProLiant DL20 Gen9 E3-1220v6 8GB-U B140i 2LFF NHP 290W PS 1TB HDD DVD Svr/Promo (872874-375)
HPE ProLiant DL380 Gen9 E5-2690v4 2P 16GB-R P440ar 8SFF 800W PS Server/S-Buy (859085-S01)
HPE DL160 Gen9 E5-2603v4 1P 8GB-R H240 8SFF 550W PS Entry Server (830571-AA1)
HPE ProLiant DL380 Gen10 4110 1P 32GB-R P816i-a 12LFF 2x800W PS Base Server (868710-291)
HPE ProLiant DL560 Gen10 6134 2P 64GB-R P408i-a 8SFF 4x800W PS Server/S-Buy (840374-S01)
HPE ProLiant DL560 Gen9 E5-4627v4 2P 64GB-R P440ar/2G 8SFF 2x1200W RPS Server/S-Buy (830076-S01)
HPE ProLiant DL380 Gen9 Special Server (P1N13B)
HPE ProLiant DL380 Gen9 E5-2620v4 1P 16GB-R P840ar 12LFF 2x800W PS Base Server (826683-291)
HPE DL160 Gen9 E5-2603v4 1P 8GB-R H240 8SFF 550W PS Entry Server (830571-B21)
HPE ProLiant ML30 Gen9 E3-1240v6 1P 16GB-U 8SFF 460W RPS Solution Server (P03707-375)
HPE ProLiant DL20 Gen9 E3-1240v6 16GB-U H240 4SFF 900W RPS Server/S-Buy (873560-001)
HPE ProLiant DL380 Gen10 4116 1P 32GB-R P408i-a 8SFF 2x800W PS Server (875772-S05)
HPE ProLiant DL180 Gen9 E5-2603v4 16GB-R H240 8SFF 550W PS Server/Promo (833991-375)
HPE ProLiant DL360 Gen9 E5-2650v4 2.2GHz 12-core 16GB-R P440ar 8SFF 800W Server (P9V54A)
HPE ProLiant ML110 Gen10 4110 1P 16GB-R S100i 4LFF SATA 550W PS Perf Server (878452-291)
HPE ProLiant DL560 Gen9 E5-4640v3 4P 128GB-R P840/4GB 16SFF 2x1200W RPS Perf Server (741066-B21)
HPE ProLiant DL560 Gen9 E5-4620v4 2P 64GB-R P440ar/2GB 8SFF 2x1200W RPS Base Server (830072-291)
HPE ProLiant DL360 Gen9 Special Server (L8M59A)
HPE ProLiant ML150 Gen9 E5-2620v4 16GB-R H240 Hot Plug 8SFF SAS 900W Perf Svr (834608-371)
HPE ProLiant DL380 Gen10 5115 1P 16GB-R P408i-a 8SFF 1x500W PS Server/S-Buy (875761-S01)
HPE ProLiant DL360 Gen9 E5-2603v3 1P 8GB-R B140i 8SFF 500W PS Entry SATA Server (755260-AA1)
HPE ProLiant DL560 Gen10 6130 2P 64GB-R P408i-a 8SFF 2x1600W PS Entry Server (875807-AA1)
HPE ProLiant ML350 Gen9 E5-2609v4 1P 16GB-R P440ar 8SFF 500W PS Server/GO (835849-425)
HPE ProLiant DL360 Gen10 5115 85W 2P 64G-2R P408i-a 8SFF 2x800W Server/S-Buy (874460-S01)
HPE ProLiant DL380 Gen9 24SFF Configure-to-order Server (767032-B21)
HPE StoreEasy 1450 16TB SATA Storage (K2R14A)
HPE ProLiant DL180 Gen9 E5-2603v4 8GB-R B140i 8LFF 550W PS Entry Server (833971-B21)
HPE ProLiant ML150 Gen9 E5-2609v4 8GB B140i 1TB 550W NHP 4LFF SATA Svr/GO (834614-425)
HPE ProLiant ML30 Gen9 E3-1220v6 8GB-U B140i 4LFF 350W PS 1TB Server/TV (873230-425)
HPE ProLiant DL360 Gen9 E5-2603v3 1P 8GB-R B140i 8SFF 500W PS Entry SATA Server (755260-B21)
HPE ProLiant DL360 Gen10 4112 85W 1P 16G-2R P408i-a 8SFF 1x500W Server/S-Buy (874459-S01)
HPE ProLiant DL360 Gen9 E5-2640v4 1P 16GB-R P440ar 8SFF 500W PS Base Server (848736-291)
HPE ProLiant DL380 Gen9 E5-2660v4 2P 64GB-R P440ar 8SFF 2x10Gb 2x800W Perf Server (852432-B21)
HPE ProLiant DL120 Gen9 E5-2630v4 8GB-R H240 8SFF 900W Server (Q0C66A)
HPE ProLiant DL580 Gen10 5120 2P 64GB-R P408i-p 8SFF 4x800W PS Entry Server (869848-291)
HPE ProLiant DL560 Gen9 E5-4610v3 1P 16GB-R B140i 8SFF 1x1200W PS Server/Promo (742255-AA5)
HPE ProLiant DL160 Gen9 E5-2603v4 1P 8GB-R B140i 4LFF 1x900W PS Server/S-Buy (830579-S05)
HPE ProLiant ML350 Gen10 3106 1P 16GB-R S100i 4LFF 1x500W RPS Entry SATA Server (877620-371)
HPE ProLiant ML30 Gen9 E3-1220v6 1P 8GB-U B140i 4LFF NHP 350W PS Entry Server (P03704-291)
HPE ProLiant DL560 Gen9 E5-4640v4 4P 128GB-R P840/4GB 16SFF 2x1200W RPS Perf Server (830073-B21)
HPE ProLiant DL380 Gen10 4110 1P 16GB-R P408i-a 8SFF 500W PS Server/TV (875668-425)
HPE ProLiant DL360 Gen9 E5-2650v3 2P 32GB-R P440ar 2x800W RPS Performance SAS Server (755263-AA1)
HPE ProLiant ML150 Gen9 E5-2609v4 8GB-R B140i Hot Plug 4LFF SATA 550W Base Svr (834607-001)
HPE ProLiant DL360 Gen10 6130 125W 2P 64G-2R P408i-a Premium 10NVMe 2x800W Hi-Perf Svr (879991-291)
HPE ProLiant DL20 Gen9 E3-1240v6 16GB-U H240 4SFF 290W PS Performance Server (871430-AA1)
HPE ProLiant MicroServer Gen10 X3418 1P 8GB-U 4LFF NHP 200W PS Perf Server (P07203-S01)
HPE ProLiant DL360 Gen9 E5-2690v4 2.6 GHz 14-core 16GB-R P440ar 8SFF 800W Server (P9V64A)
HPE ProLiant ML350 Gen9 E5-2620v4 16GB-R P440ar 8SFF 500W PS Base Server (835263-371)
HPE ProLiant ML110 Gen9 Hot Plug 8SFF Configure-to-order Server (776935-B21)
HPE ProLiant DL380 Gen9 E5-2609v3 1P 8GB-R B140i 4LFF SATA 500W PS Entry Server (766342-291)
HPE ProLiant DL560 Gen9 E5-4620v4 2P 16GB-R P440ar/2G 8SFF 2x1200W RPS Server (830079-AA5)
HPE ProLiant ML150 Gen9 E5-2603v4 8GB-R B140i NHP 4LFF SATA 550W Entry Svr (834606-291)
HPE ProLiant DL380 Gen9 12LFF Configure-to-order Server (719061-B21)
HPE ProLiant ML30 Gen9 E3-1220v6 8GB-U B140i 4LFF 350W PS 2TB Server/GO (873231-425)
HPE StoreEasy 1450 8TB SATA Storage (K2R13A)
HPE ProLiant DL325 Gen10 7351P 1P 16GB-R E208i-a 8SFF 1x500W PS Performance Server (P04647-AA1)
HPE ProLiant DL360 Gen9 8SFF Configure-to-order Server (755258-B21)
HPE ProLiant ML150 Gen9 E5-2620v4 8GB B140i 1TB 550W Hot Plug 4LFF SATA Svr/S-Buy (834618-S05)
HPE ProLiant DL560 Gen10 8164 4P 256GB-R P816i-a 16SFF 2x1600W PS Perf Server (880173-B21)
HPE ProLiant DL360 Gen10 6130 125W 2P 64G-2R P408i-a Premium 10NVMe 2x800W Hi-Perf Svr (867964-291)
HPE ProLiant DL380 Gen10 5118 1P 64GB-R P408i-a 8SFF 800W RPS Performance Server (P06422-291)
HPE ProLiant ML350 Gen9 E5-2620v4 16GB-R P440ar 8SFF 500W PS Base Server (835263-001)
HPE ProLiant DL360 Gen9 E5-2603v3 1P 8GB-R H240ar 8SFF 500W PS Entry SAS Server (755261-AA1)
HPE ProLiant ML110 Gen10 3104 1P 8GB-R S100i 4LFF 350W PS Server/Promo (880718-295)
HPE ProLiant DL560 Gen9 E5-4620v4 2P 64GB-R P440ar/2GB 8SFF 2x1200W RPS Base Server (830072-B21)
HPE ProLiant DL180 Gen9 E5-2603v4 8GB-R B140i 8LFF 550W PS Entry Server (833971-291)
HPE ProLiant DL160 Gen9 E5-2603v4 1P 8GB-R B140i 8SFF 1x900W PS Server/Promo (830586-295)
HPE ProLiant DL360 Gen10 6134 96W 1P 16G-2R P408i-a 8SFF 1x800W PS Server (Q8T67A)
HPE ProLiant DL380 Gen9 E5-2650v3 2P 32GB-R P440ar 8SFF 2x10Gb 2x800W Perf Server (752689-291)
HPE ProLiant MicroServer Gen10 X3421 1P 8GB-U 4LFF NHP SATA 200W PS Perf Server (P03698-421)
HPE ProLiant DL360 Gen9 E5-2640v4 1P 8GB-R P440ar 8SFF 500W PS Server (844985-295)
HPE ProLiant ML350 Gen9 E5-2609v4 1P 8GB-R B140i 8LFF 500W PS Entry Server (835262-371)
HPE ProLiant DL360 Gen10 4116 85W 2P 64G-2R P408i-a 8SFF 2x500W Server (875842-S05)
HPE ProLiant DL385 Gen10 7251 1P 16GB-R E208i-a 8LFF SATA 500W PS Entry Server (878712-AA1)
HPE StoreEasy 1550 16TB SATA Storage (K2R65A)
HPE DL160 Gen9 E5-2603v4 1P 8GB-R B140i 4LFF 550W PS Entry Server (830570-AA1)
HPE ProLiant DL360 Gen10 5120 105W 1P 16G-2R P408i-a 8SFF 1x500W Server/Promo (875848-375)
HPE ProLiant DL360 Gen9 E5-2667v4 3.2GHz 8-core 16GB-R P440ar 8SFF 800W Server (P9V63A)
HPE StoreEasy 1850 Storage (K2R19A)
HPE StoreEasy 1450 16TB SATA WSS2016 Storage (Q1J34A)
HPE ProLiant DL360 Gen9 E5-2603v4 1P 8GB-R H240ar 8SFF 500W PS Entry SAS Server (818207-291)
HPE ProLiant ML350 Gen9 E5-2609v4 1P 8GB-R B140i 8LFF 500W PS Entry Server (835262-001)
HPE ProLiant DL360 Gen10 6136 150W 1P 32G-2R P408i-a 8SFF 2x800W Server/S-Buy (874456-S01)
HPE ProLiant ML110 Gen10 3104 1P 8GB-R S100i 4LFF NHP SATA 350W PS Entry Server (878450-291)
HPE ProLiant DL20 Gen9 E3-1230v6 1P 8GB-U H240 4SFF 900W PS Solution Server (P06016-291)
HPE ProLiant ML110 Gen9 E5-2603v4 8GB-R B140i 4LFF 1x1TB 350W PS Server/Promo (840676-375)
HPE ProLiant ML350 Gen10 4110 1P 16GB-R E208i-a 8SFF 1x800W RPS Solution Server (P04674-S01)
HPE ProLiant ML110 Gen10 3104 1P 8GB-R 4LFF 350W PS Server (Q9G54A)
HPE ProLiant ML350 Gen10 5118 2P 32GB-R P408i-a 8SFF 2x800W RPS Perf Server (877623-031)
HPE ProLiant DL380 Gen9 E5-2603v4 1.7GHz 6-core 8GB-R P440ar 8SFF 500W Server (P9V56A)
HPE ProLiant DL380 Gen9 E5-2620v4 1P 16GB-R P440ar 8SFF 500W PS Base Server (826682-291)
HPE ProLiant DL360 Gen10 6130 96W 1P 16G-2R P408i-a 8SFF 1x800W PS Server (Q8T66A)
HPE ProLiant ML30 Gen9 E3-1230v6 8GB-U B140i 4LFF 350W PS Server/S-Buy (873228-001)
HPE ProLiant DL580 Gen10 5120 2P 32GB-R P408i-p 8SFF 2x1600W PS Entry Server (869852-AA1)
HPE ProLiant ML110 Gen10 3106 1P 16GB-R S100i 4LFF Hot Plug 550W PS Perf Server (P03685-S01)
HPE ProLiant DL120 Gen9 E5-2603v4 8GB-R B140i 4LFF SATA 550W PS Entry Server (830011-B21)
HPE ProLiant ML350 Gen9 E5-2650v4 2P 32GB-R P440ar 8SFF 2x800W PS Perf Server (835265-031)
HPE ProLiant ML350 Gen10 5118 1P 16GB-R P408i-a 8SFF 1x800W RPS Server (Q9F47A)
HPE ProLiant DL360 Gen10 3104 1P 8GB-R S100i 4LFF 500W PS Base Server (P01880-291)
HPE ProLiant ML30 Gen9 E3-1220v6 1P 8GB-U B140i 4LFF SATA 350W PS Base Server (872658-201)
HPE ProLiant DL180 Gen9 E5-2620v4 8GB-R B140i 8SFF 900W PS Server/Promo (848832-375)
HPE ProLiant DL20 Gen9 2LFF Configure-to-order Server (819785-B21)
HPE ProLiant ML110 Gen10 4110 1P 16GB-R S100i 8SFF 800W RPS Server/S-Buy (880229-S01)
HPE ProLiant DL560 Gen9 E5-4610v3 2P 32GB-R B140i 8SFF SATA 1200W PS Entry Server (741064-AA1)
HPE ProLiant DL380 Gen9 E5-2640v3 2P 128GB-R SAS 600GB 800W RPS Server/TV (L3L01A)
HPE ProLiant DL360 Gen9 Special Server (L8M58A)
HPE ProLiant ML350 Gen9 E5-2650v4 2P 32GB-R P440ar 8SFF 2x800W PS Perf Server (835265-001)
HPE ProLiant DL360 Gen10 4112 96W 1P 16G-2R P408i-a 8SFF 1x500W PS Server (Q8T71A)
HPE ProLiant ML150 Gen9 E5-2609v4 8GB B140i 900W Hot Plug 4LFF SATA Svr/S-Buy (860120-S01)
HPE ProLiant DL380 Gen10 4114 1P 32GB-R P408i-a 8SFF 500W PS Server (875771-S05)
HPE ProLiant ML110 Gen9 E5-2603v4 8GB-R B140i 4LFF NHP 350W PS Entry Server (838502-371)
HPE ProLiant DL360 Gen10 4110 85W 1P 16G-2R P408i-a 8SFF 1x500W Server/Promo (875845-375)
HPE ProLiant MicroServer Gen10 X3216 1P 8GB-U 4LFF NHP SATA 200W PS Entry Server (873830-375)
HPE ProLiant DL560 Gen9 E5-4610v4 2P 32GB-R B140i 8SFF SATA 1200W PS Entry Server (830071-AA1)
HPE ProLiant DL180 Gen9 E5-2620v4 16GB-R P440 8SFF 900W PS Server/GO (833988-425)
HPE ProLiant ML150 Gen9 Hot Plug 4LFF Configure-to-order Server (767063-B21)
HPE ProLiant ML350 Gen10 4110 1P 16GB-R P408i-a 8SFF 1x800W RPS Server/S-Buy (878766-S01)
HPE ProLiant DL360 Gen9 E5-2630v3 1P 8GB-R P440ar 500W PS Base SAS Server (780027-295)
HPE ProLiant MicroServer Gen10 X3421 1P 8GB-U 4LFF NHP SATA 200W PS Perf Server (P03698-S01)
HPE ProLiant DL360 Gen9 E5-2609v3 1P 16GB-R SAS 600GB 500W PS Server/GO (K8N30A)
HPE ProLiant ML110 Gen9 E5-2603v4 8GB-R B140i 4LFF NHP 350W PS Entry Server (838502-291)
HPE ProLiant ML350 Gen10 3106 1P 16GB-R S100i 4LFF 1x500W RPS Entry SATA Server (877620-AA1)
HPE ProLiant DL580 Gen10 6154 2P 128GB-R P408i-p 8SFF 4x800W PS Base Server/S-Buy (869850-S01)
HPE ProLiant DL380 Gen9 E5-2620v4 1P 16GB P440ar 24SFF 800W PS Server/S-Buy (859084-S01)
HPE ProLiant ML110 Gen9 E5-2603v4 8GB-R B140i 4LFF NHP 350W PS Entry Server (838502-031)
HPE ProLiant ML350 Gen10 3106 1P 16GB-R S100i 4LFF 1x500W RPS Entry SATA Server (877620-031)
HPE ProLiant DL360 Gen10 6132 140W 1P 32G-2R P408i-a 8SFF 2x800W Server/S-Buy (874462-S01)
HPE ProLiant DL20 Gen9 E3-1240v6 8GB-U B140i 4SFF 900W RPS Server/Promo (872881-295)
HPE ProLiant DL360 Gen9 E5-2699v4 2.2GHz 22-core16GB-R P440ar 8SFF 800W Server (P9V65A)
HPE ProLiant DL360 Gen9 E5-2620v4 1P 16GB-R H240ar 8SFF 500W PS SAS Server/S-Buy (849455-S01)
HPE ProLiant ML150 Gen9 E5-2603v4 8GB-R B140i NHP 4LFF SATA 550W Entry Svr (834606-371)
HPE ProLiant DL380 Gen10 3104 96W 2P 16G-2R P408i-a 8SFF 1x500W PS Server (Q8T85A)
HPE ProLiant DL20 Gen9 E3-1240v6 16GB-U B140i 2LFF 290W PS 2TB HDD DVD-RW Svr/Promo (872877-375)
HPE ProLiant MicroServer Gen10 X3418 1P 8GB-U 4LFF NHP 200W PS Perf Server (P07203-291)
HPE ProLiant DL385 Gen10 7301 1P 32GB-R P408i-a 8SFF SAS 500W PS Server/S-Buy (P00324-S01)
HPE ProLiant DL20 Gen9 G4560 8GB-U 2LFF Non-hot Plug 290W PS Entry Server (871428-AA1)
HPE ProLiant DL380 Gen9 Special Server (P1N15C)
HPE ProLiant ML150 Gen9 E5-2603v4 8GB-R B140i NHP 4LFF SATA 550W Entry Svr (834606-001)
HPE ProLiant ML350 Gen9 E5-2650v4 2P 32GB-R P440ar 8SFF 2x800W PS Perf Server (835265-421)
HPE ProLiant DL180 Gen9 Hot Plug 12LFF Configure-to-order Server (775506-B21)
HPE ProLiant DL380 Gen9 E5-2609v3 1P 8GB-R B140i 8SFF SATA 500W PS Entry Server (752686-B21)
HPE ProLiant DL20 Gen9 E3-1270v5 1P 8GB-U Non-hot Plug 2LFF 290W PS Server (Q0K03A)
HPE ProLiant DL120 Gen9 E5-2623v4 8GB-R B140i 8SFF SATA 900W PS Server/Promo (839309-375)
HPE ProLiant DL380 Gen9 E5-2690v3 2P 32GB-R P440ar 8SFF 2x10Gb 2x800W OneView Server (803861-291)
HPE ProLiant ML110 Gen10 3104 1P 8GB-R S100i 4LFF NHP 1TB 350W PS Server/Promo (880648-AA5)
HPE ProLiant DL560 Gen9 E5-4620v3 2P 64GB-R P440ar/2GB 8SFF 2x1200W RPS Base Server (741065-291)
HPE ProLiant DL325 Gen10 7251 1P 8GB-R E208i-a 4LFF 500W PS Entry Server (P04646-291)
HPE ProLiant DL360 Gen9 E5-2620v4 1P 8GB-R P440ar 8SFF 500W PS Server (844984-295)
HPE ProLiant DL120 Gen9 E5-2603v4 8GB-R B140i 4LFF SATA 900W PS Server/Promo (839308-375)
HPE ProLiant ML110 Gen10 4108 1P 16GB-R S100i 4LFF Hot Plug 550W PS Perf Server (P03686-375)
HPE ProLiant DL20 Gen9 E3-1220v6 16GB-U B140i 2LFF 290W PS 2TB HDD DVD-RW Svr/Promo (872876-375)
HPE ProLiant DL360 Gen10 4110 1P 16GB-R P408i-a 8SFF 500W PS Performance Server (P06453-291)
HPE ProLiant ML150 Gen9 E5-2609v4 8GB-R B140i Hot Plug 4LFF SATA 550W Base Svr (834607-421)
HPE ProLiant DL380 Gen10 6154 96W 2P 16G-2R P408i-a 8SFF 1x800W PS Server (Q8T90A)
HPE ProLiant DL385 Gen10 7451 2P 64GB-R P408i-a 24SFF SAS 2x800W PS Perf Server (878724-291)
HPE ProLiant ML110 Gen10 3104 1P 8GB-R S100i 4LFF NHP SATA 350W PS DVD Entry Server (P03684-291)
HPE ProLiant ML150 Gen9 E5-2609v4 8GB-R B140i Hot Plug 4LFF SATA 550W Base Svr (834607-291)
HPE ProLiant ML150 Gen9 E5-2603v4 8GB B140i 550W Hot Plug 4LFF SATA Svr/Promo (834621-295)
HPE ProLiant DL380 Gen10 6148 2P 64GB-R P408i-a 8SFF 2x800W PS Server/S-Buy (875764-S01)
HPE ProLiant ML150 Gen9 E5-2620v4 1P 8GB B140i 2x900W Hot Plug 4LFF SAS Svr/S-Buy (860119-S01)
HPE ProLiant DL380 Gen10 5120 1P 32GB-R P408i-a 8SFF 2x500W PS Server/S-Buy (875762-S01)
HPE ProLiant DL360 Gen9 E5-2640v4 1P 16GB-R P440ar 8SFF 500W PS Base Server (848736-AA1)
HPE ProLiant DL180 Gen9 E5-2609v4 16GB-R H240 8SFF 550W PS Server/Promo (833992-AA5)
HPE ProLiant DL380 Gen10 4114 1P 16GB-R P408i-a+Expander 24SFF 2x800W PS Server/SB (875766-S01)
HPE ProLiant DL360 Gen10 5118 96W 1P 16G-2R P408i-a 8SFF 1x500W PS Server (Q8T65A)
HPE StoreEasy 1650 32TB SAS Storage (K2R17A)
HPE DL160 Gen9 E5-2620v4 1P 16GB-R H240 8SFF 550W PS Base Server (830572-291)
HPE ProLiant ML350 Gen10 3104 1P 8GB-R S100i 4LFF NHP 500W PS Sub Entry SATA Server (877619-031)
HPE ProLiant ML150 Gen9 E5-2620v4 2.1GHz 8-core 8GB-R H240 8SFF 900W Server (P9V69A)
HPE StoreEasy 1650 Expanded WSS2016 Storage (Q0F50A)
HPE ProLiant DL380 Gen10 6130 96W 2P 16G-2R P408i-a 8SFF 1x800W PS Server (Q8T87A)
HPE ProLiant DL360 Gen9 E5-2650v3 2P 32GB-R P440ar 2x800W RPS Performance SAS Server (755263-291)
HPE ProLiant DL180 Gen9 E5-2609v4 8GB-R B140i 8LFF 550W PS Server/S-Buy (833976-S01)
HPE ProLiant DL380 Gen10 4114 1P 32GB-R P408i-a 8SFF 500W PS Base Server (826565-291)
HPE ProLiant ML110 Gen10 4110 1P 16GB-R S100i 4LFF SATA 550W PS Perf Server (878452-421)
HPE ProLiant DL385 Gen10 7251 1P 16GB-R P408i-a 8SFF 500W RPS Solution Server (P05887-291)
HPE ProLiant DL180 Gen9 E5-2609v4 8GB-R H240 8SFF 550W PS Base Server (833973-B21)
HPE ProLiant ML150 Gen9 Non-hot Plug 4LFF Configure-to-order Server (767062-B21)
HPE ProLiant DL360 Gen9 E5-2630v4 1P 16GB-R P440ar 8SFF 500W PS Base SAS Server (818208-AA1)
HPE ProLiant DL180 Gen9 E5-2623v4 16GB-R P840 12LFF 900W PS Server (833974-B21)
HPE ProLiant ML350 Gen9 Hot Plug 8SFF Configure-to-order Tower Server (754536-B21)
HPE ProLiant DL380 Gen10 4112 96W 2P 16G-2R P408i-a 8SFF 1x500W PS Server (Q8T91A)
HPE ProLiant DL380 Gen9 Special Server (M5S35A)
HPE ProLiant ML350 Gen9 2xE5-2640v4 1P 16GB-R P440ar 8SFF 2x600GB 2x500W PS Server/S-Buy (835855-S05)
HPE ProLiant DL380 Gen9 E5-2650v3 1P 8GB-R P440ar 8SFF 500W PS Server/Promo (777353-295)
HPE ProLiant DL360 Gen10 4116 85W 1P 32G-2R P408i-a 8SFF 2x800W Server/S-Buy (874458-S01)
HPE ProLiant DL560 Gen9 E5-4667v4 2P 64GB-R P440ar/2G 8SFF 2x1200W RPS Server/S-Buy (830075-S01)
HPE ProLiant DL380 Gen10 4108 1P 16GB-R P408i-a 8SFF 1x500W PS Server/Promo (875769-295)
HPE ProLiant DL180 Gen9 E5-2609v4 8GB-R B140i 8LFF 900W PS Server/S-Buy (833982-S05)
HPE ProLiant DL380 Gen9 E5-2609v4 1P 8GB-R H240ar 8SFF 500W PS Server/SB (850517-S01)
HPE ProLiant DL360 Gen10 3104 85W 1P 16G-2R P408i-a 8SFF 1x500W Server/Promo (876342-295)
HPE ProLiant DL360 Gen10 3104 1P 8GB-R S100i 4LFF 500W PS Base Server (P01880-AA1)
HPE ProLiant DL380 Gen10 5118 2P 64GB-R P408i-a 8SFF 2x800W PS Server (875773-S05)
HPE ProLiant DL120 Gen9 E5-2609v4 8GB-R B140i 4LFF SATA 550W PS Server/S-Buy (839295-S01)
HPE ProLiant DL388 Gen9 E5-2603v3 1P 8GB-R P440ar 8SFF 500W PS Server (827009-AA1)
HPE ProLiant ML110 Gen10 4110 1P 16GB-R S100i 4LFF SATA 550W PS Perf Server (878452-AA1)
HPE StoreEasy 1650 16TB SAS Storage (K2R16A)
HPE ProLiant DL560 Gen10 8170 4P 256GB-R P816i-a 16SFF 2x1600W PS Perf Server (840371-AA1)
HPE ProLiant DL360 Gen9 E5-2650v3 2P 32GB-R P440ar 2x800W RPS Performance SAS Server (755263-B21)
HPE ProLiant DL120 Gen9 E5-1650v4 1P 8GB-R Non-hot Plug 4LFF 550W PS Server (Q0K01A)
HPE ProLiant DL120 Gen9 4LFF Configure-to-order Server (777427-B21)
HPE ProLiant DL180 Gen9 Special Server (860134-S01)
HPE ProLiant ML350 Gen10 5118 2P 32GB-R P408i-a 8SFF 2x800W RPS Perf Server (877623-001)
HPE ProLiant DL180 Gen9 E5-2609v4 8GB-R H240 8LFF 550W PS Base Server (833972-291)
HPE ProLiant DL360 Gen10 6130 125W 2P 64G-2R P408i-a Premium 10NVMe 2x800W Hi-Perf Svr (867964-AA1)
HPE ProLiant ML110 Gen9 E5-1620 v4 1P 8GB-R 4LFF 550W PS Server (Q0J60A)
HPE StoreEasy 1650 32TB SAS WSS2016 Storage (Q1J35A)
HPE ProLiant ML150 Gen9 E5-2620v4 16GB-R H240 Hot Plug 8SFF SAS 900W Perf Svr (834608-AA1)
HPE ProLiant DL380 Gen10 4114 1P 32GB-R P408i-a 8SFF 500W PS Server/TV (875669-425)
HPE ProLiant DL20 Gen9 E3-1220v6 8GB-U B140i 2LFF 290W PS Base Server (871429-AA1)
HPE ProLiant ML30 Gen9 E3-1240v6 1P 8GB-U B140i 4LFF SATA 460W RPS Perf Server (872659-031)
HPE ProLiant ML350 Gen10 4108 1P 16GB-R P408i-a 8SFF 2x300GB 2x800W RPS Server/GO (878763-425)
HPE ProLiant DL360 Gen9 E5-2630v4 1P 16GB-R P440ar 8SFF 500W PS Base SAS Server (818208-291)
HPE ProLiant DL380 Gen9 E5-2620v4 1P 16GB-R P840ar 12LFF 2x800W PS Base Server (826683-B21)
HPE ProLiant DL120 Gen9 E5-2603v4 1.7GHz 6-core 8GB-R H240 8SFF 900W Server (Q0C65A)
HPE ProLiant ML110 Gen10 4110 1P 16GB-R S100i 4LFF SATA 550W PS Perf Server (878452-031)
HPE ProLiant DL560 Gen9 E5-4620v3 2P 64GB-R P440ar/2GB 8SFF 2x1200W RPS Base Server (741065-AA1)
HPE ProLiant ML350 Gen9 E5-2609v4 1P 8GB-R P440ar 8LFF 500W PS Server/S-Buy (835850-S01)
HPE ProLiant ML110 Gen10 3106 1P 16GB-R S100i 4LFF Hot Plug 550W PS Perf Server (P03685-375)
HPE ProLiant DL360 Gen9 E5-2623v4 2.6GHz 4-core 8GB-R P440ar 8SFF 500W Server (Q0B88A)
HPE ProLiant ML30 Gen9 E3-1240v6 1P 8GB-U B140i 4LFF SATA 460W RPS Perf Server (872659-291)
HPE ProLiant DL380 Gen10 4110 1P 16GB-R P408i-a 8SFF 1x500W PS Server/S-Buy (875760-S01)
HPE ProLiant ML350 Gen9 E5-2609v4 1P 8GB-R P440ar 8SFF 500W PS ES Server/Promo (845158-375)
HPE ProLiant DL560 Gen10 8170 4P 256GB-R P816i-a 16SFF 2x1600W PS Perf Server (840371-291)
HPE ProLiant ML350 Gen10 4110 1P 16GB-R P408i-a 8SFF 1x800W RPS Base Server (877621-001)
HPE ProLiant MicroServer Gen10 X3216 8GB-U 1TB 4LFF NHP SATA 200W PS Entry Server (870208-001)
HPE ProLiant DL380 Gen9 Special Server (P9D76A)
HPE ProLiant DL380 Gen9 E5-2640v4 1P 16GB-R P440ar 8SFF 500W PS Server (840068-S05)
HPE ProLiant ML150 Gen9 E5-2603v4 8GB-R B140i NHP 4LFF SATA 550W Entry Svr (834606-AA1)
HPE ProLiant ML30 Gen9 Non-hot Plug 4LFF Configure-to-order Server (823401-B21)
HPE ProLiant ML350 Gen10 4114 1P 16GB-R P408i-a 8SFF 1x800W RPS Server/Promo (879822-295)
HPE ProLiant ML350 Gen10 3104 1P 16GB-R P408i-a 8SFF 1x800W RPS Server (Q9F45A)
HPE ProLiant DL120 Gen9 E5-2609v4 8GB-R B140i 8SFF SATA 550W PS Server/Promo (839305-AA5)
HPE ProLiant DL380 Gen9 E5-2640v3 1P 16GB-R P440ar 8SFF 500W PS Server/Promo (777355-375)
HPE ProLiant DL385 Gen10 7401 1P 32GB-R P408i-a 24SFF SAS 800W PS Base Server (878720-291)
HPE ProLiant DL560 Gen9 E5-4669v4 2P 64GB-R P440ar/2G 8SFF 2x1200W RPS Server/S-Buy (830074-S01)
HPE ProLiant DL325 Gen10 7351P 1P 16GB-R E208i-a 8SFF 1x500W PS Performance Server (P04647-291)
HPE ProLiant DL360 Gen9 E5-2690v4 1P 32GB-R P440ar 8SFF 2x800W 2PS Server/S-Buy (850367-S01)
HPE ProLiant ML350 Gen9 E5-2609v4 1P 8GB-R B140i 8LFF 500W PS Entry Server (835262-031)
HPE ProLiant ML30 Gen9 E3-1240v6 1P 16GB-U 8SFF 460W RPS Solution Server (P03707-291)
HPE ProLiant DL20 Gen9 E3-1220v6 8GB-U B140i 4SFF 900W RPS Server/Promo (872880-295)
HPE ProLiant MicroServer Gen10 X3421 1P 8GB-U 4LFF NHP SATA 200W PS Soln Server (P04923-375)
HPE ProLiant ML350 Gen9 E5-2620v4 1P 8GB-R P440ar 8SFF 500W PS Server/S-Buy (835851-S01)
HPE ProLiant DL560 Gen10 6154 2P 128GB-R P408i-a 8SFF 2x1600W PS Server/S-Buy (870740-S01)
HPE ProLiant ML30 Gen9 E3-1220v6 1P 8GB-U B140i 4LFF SATA 350W PS Base Server (872658-371)
HPE ProLiant DL560 Gen9 Special Server (P4K91A)
HPE ProLiant DL180 Gen9 E5-2603v4 8GB-R B140i 8LFF NHP 550W PS Entry Server (833971-AA1)
HPE ProLiant DL388 Gen9 E5-2609v3 1P 16GB-R P440ar 8SFF 500W PS Server (827006-AA1)
HPE ProLiant ML30 Gen9 Hot Plug 8SFF Configure-to-order Server (823403-B21)
HPE ProLiant ML110 Gen9 E5-1603v4 8GB-R B140i 4LFF 1x1TB 350W PS Server/S-Buy (840669-S05)
HPE ProLiant ML350 Gen9 E5-2609v4 1.9GHz 6-core 1P 16GB-R SATA 500W RPS Server/TV (Q0P29A)
HPE ProLiant DL360 Gen9 E5-2660v4 2P 64GB-R P440ar 8SFF 800W RPS Perf2 SAS Server (851937-B21)
HPE ProLiant ML110 Gen9 E5-2620v4 8GB-R B140i 4LFF 1x1TB 350W PS Server/GO (840675-425)
HPE ProLiant DL360 Gen10 4114 85W 1P 32G-2R P408i-a 8SFF 2x500W Server/TV (875839-425)
HPE ProLiant DL20 Gen9 E3-1220v6 8GB-U B140i 2LFF Non-hot Plug 290W PS Server (873558-001)
HPE ProLiant DL560 Gen9 E5-4610v4 2P 32GB-R B140i 8SFF SATA 1200W PS Entry Server (830071-291)
HPE ProLiant ML350 Gen9 E5-2630v4 1P 16GB-R P440ar 8SFF 500W PS Server/Promo (835857-AA5)
HPE ProLiant ML110 Gen10 4110 1P 16GB-R 8SFF 800W RPS Solution Server (P03687-291)
HPE ProLiant ML350 Gen10 4116 1P 16GB-R P408i-a 8SFF 2x800W RPS Server/S-Buy (878767-S01)
HPE ProLiant ML30 Gen9 E3-1240v6 1P 8GB-U B140i 4LFF SATA 460W RPS Perf Server (872659-001)
HPE ProLiant MicroServer Gen10 X3216 8GB-U 1TB 4LFF NHP SATA 200W PS Entry Server (870208-291)
HPE ProLiant DL360 Gen9 E5-2650v4 2P 32GB-R P440ar 8SFF 800W RPS Perf SAS Server (818209-291)
HPE ProLiant DL120 Gen9 E5-2630v4 8GB-R H240 8SFF 550W PS Entry Server (833870-B21)
HPE ProLiant ML110 Gen10 4110 1P 16GB-R 8SFF 800W RPS Solution Server (P03687-375)
HPE ProLiant DL580 Gen10 6132 2P 128GB-R P408i-p 8SFF 4x800W PS Entry Server/S-Buy (880397-S01)
HPE ProLiant ML110 Gen10 3104 1P 8GB-R 4LFF 500W PS Server (Q9G56A)
HPE ProLiant DL360 Gen9 E5-2650v4 2P 32GB-R P440ar 8SFF 800W RPS Perf SAS Server (818209-B21)
HPE ProLiant DL120 Gen9 E5-2623v4 8GB-R B140i 8SFF SATA 900W PS Server/Promo (839307-295)
HPE ProLiant ML110 Gen9 Non-hot Plug 4LFF Configure-to-order Server (776933-B21)
HPE ProLiant ML30 Gen9 E3-1220v6 8GB-U B140i 4LFF 350W PS Server/S-Buy (873227-001)
HPE ProLiant DL560 Gen9 E5-4610v3 2P 32GB-R B140i 8SFF SATA 1200W PS Entry Server (741064-291)
HPE ProLiant ML110 Gen9 E5-2603v4 8GB-R B140i 4LFF 1x1TB 350W PS Server/Promo (840676-AA5)
HPE ProLiant DL380 Gen9 E5-2623v4 2.6GHz 4-core 8GB-R P440ar 8SFF 500W Server (P9V57A)
HPE ProLiant DL120 Gen9 E5-2630v4 8GB-R H240 8SFF 900W Server (Q0C68A)
HPE StoreEasy 1550 WSS2016 Storage (Q0F48A)
HPE ProLiant DL380 Gen9 E5-2630v3 1P 8GB-R P440ar 8SFF 500W PS Server/Promo (777354-295)
HPE ProLiant DL360 Gen9 E5-2620v4 1P 16GB-R P440ar 8SFF 500W PS Server (844987-AA5)
HPE ProLiant ML110 Gen9 E5-2620v4 8GB-R B140i 4LFF 350W PS Base Server (838503-371)
HPE ProLiant ML350 Gen10 4108 1P 32GB-R E208i-a 8LFF 1x800W RPS Server/S-Buy (879817-S05)
HPE ProLiant MicroServer Gen10 X3421 16GB-U 4LFF NHP SATA 200W PS Performance Server (870210-421)
HPE ProLiant DL380 Gen9 E5-2620v3 1P 16GB-R P440ar 8SFF 500W PS Base Server (752687-B21)
HPE ProLiant DL380 Gen9 E5-2620v4 1P 8GB-R H240ar 8SFF 500W PS Server (845805-375)
HPE ProLiant DL160 Gen9 E5-2623v4 2.6GHz 4-core 8GB-R H240 8SFF 900W Server (Q0C70A)
HPE ProLiant DL385 Gen10 7251 1P 16GB-R E208i-a 8SFF SATA 500W PS Server/S-Buy (P00323-S01)
HPE ProLiant DL560 Gen9 E5-4620v4 2P 64GB-R P440ar/2GB 8SFF 2x1200W RPS Base Server (830072-AA1)
HPE ProLiant ML350 Gen9 E5-2609v4 1P 8GB-R B140i 8LFF 500W PS Entry Server (835262-AA1)
HPE ProLiant DL160 Gen9 Hot Plug 8SFF Configure-to-order Server (754520-B21)
HPE ProLiant ML30 Gen9 E3-1220v6 1P 8GB-U B140i 4LFF 350W PS DVD Perf Server (P03705-S01)
HPE ProLiant DL360 Gen9 E5-2603v3 1P 8GB-R H240ar 500W PS 10Gb-T Entry SAS Server (780029-375)
HPE ProLiant DL560 Gen10 8164 4P 256GB-R P816i-a 16SFF 2x1600W PS Perf Server (880173-291)
HPE ProLiant DL120 Gen9 E5-2630v4 8GB-R H240 8SFF 550W PS Entry Server (833870-AA1)
HPE ProLiant DL380 Gen10 3106 1P 16GB-R S100i 8SFF 500W PS Entry SATA Server (826564-291)
HPE ProLiant DL385 Gen10 7251 1P 16GB-R E208i-a 8LFF SATA 500W PS Entry Server (878712-291)
HPE ProLiant DL560 Gen9 Configure-to-order Server (742657-B21)
HPE ProLiant DL180 Gen9 E5-2620v4 8GB-R P440 8SFF 900W PS Server/S-Buy (833978-S01)
HPE ProLiant DL360 Gen10 5118 105W 2P 32G-2R P408i-a 8SFF 2x800W Performance Server (867963-AA1)
HPE ProLiant ML30 Gen9 E3-1240v6 8GB-U B140i 8SFF 460W Server/Promo (873235-295)
HPE ProLiant DL20 Gen9 G4560 8GB-U 2LFF Non-hot Plug 290W PS Entry Server (871428-291)
HPE ProLiant DL560 Gen10 6130 2P 64GB-R P408i-a 8SFF 2x1600W PS Entry Server (875807-291)
HPE ProLiant DL360 Gen9 E5-2630v3 1P 16GB-R P440ar 8SFF 500W PS Base SAS Server (755262-291)
HPE ProLiant DL120 Gen9 E5-2620v4 8GB-R B140i 4LFF SATA 550W PS Server/S-Buy (839296-S01)
HPE ProLiant DL380 Gen10 6130 2P 64GB-R P408i-a 8SFF 2x800W PS Performance Server (826567-291)
HPE ProLiant ML110 Gen10 4110 1P 16GB-R S100i 4LFF SATA 550W PS Perf Server (878452-001)
HPE ProLiant DL360 Gen10 4110 1P 16GB-R P408i-a 8SFF 500W RPS Solution Server (P05520-291)
HPE ProLiant ML350 Gen9 2xE5-2630v4 2P 32GB-R P440ar 8SFF 2x800W PS Perf ES Rack Server (835264-421)
HPE ProLiant ML350 Gen10 3106 1P 16GB-R E208i-a 4LFF 500W PS Server/GO (878762-425)
HPE ProLiant ML110 Gen9 E5-2620v4 2.1GHz 8-core 8GB-R 4LFF 750W Server (P9V67A)
HPE ProLiant ML30 Gen9 E3-1220v6 1P 8GB-U B140i 4LFF SATA 350W PS Base Server (872658-291)
HPE ProLiant DL560 Gen9 E5-4640v3 4P 128GB-R P840/4GB 16SFF 2x1200W RPS Perf Server (741066-291)
HPE ProLiant DL380 Gen9 E5-2630v4 1P 8GB-R P440ar 8SFF 500W PS Server (845806-295)
HPE ProLiant DL560 Gen10 8164 4P 256GB-R P816i-a 16SFF 2x1600W PS Perf Server (880173-AA1)
HPE ProLiant ML30 Gen9 E3-1220v6 8GB-U B140i 4LFF 350W PS 1TB Server/TV (873230-035)
HPE ProLiant DL385 Gen10 7251 1P 16GB-R P408i-a 8SFF SATA 500W PS Server (P00328-375)
HPE ProLiant ML30 Gen9 E3-1230v5 1P 8GB-R B140i SATA 460W PS Server/TV (P9U51A)
HPE ProLiant ML150 Gen9 E5-2609v4 8GB-R B140i Hot Plug 4LFF SATA 550W Base Svr (834607-371)
HPE ProLiant DL160 Gen9 E5-2609v4 1P 8GB-R B140i 4LFF 550W PS Server/S-Buy (830574-S01)
HPE ProLiant ML30 Gen9 E3-1220v6 1P 8GB-U B140i 4LFF 350W PS DVD Perf Server (P03705-291)
HPE ProLiant ML30 Gen9 E3-1220v6 1P 8GB-U B140i 4LFF NHP 350W PS Entry Server/TV (P03704-425)
HPE ProLiant ML110 Gen10 4108 1P 8GB-R 4LFF 500W PS Server (Q9G57A)
HPE ProLiant DL160 Gen9 E5-2620v4 1P 8GB-R P440/2G 8SFF 1x900W PS Server/S-Buy (830577-S01)
HPE ProLiant DL380 Gen9 E5-2609v3 1P 16GB-R SAS 600GB 500W PS Server/GO (K8P43A)
HPE ProLiant DL580 Gen10 8164 4P 256GB-R P408i-p 8SFF 4x1600W PS Perf Server (869845-291)
HPE ProLiant DL380 Gen9 Special Server (M6K77A)
HPE ProLiant ML150 Gen9 E5-2609v4 1.7GHz 8-core 1P 8GB-R 900W Server/TV (Q0U80A)
HPE ProLiant DL360 Gen9 Special Server (M9A03A)
HPE ProLiant ML110 Gen9 E5-2620v4 8GB-R B140i 4LFF 350W PS Base Server (838503-001)
HPE ProLiant ML30 Gen9 E3-1230v6 1P 8GB-U B140i 4LFF 460W RPS DVD Perf Server (P03706-S01)
HPE ProLiant DL380 Gen9 E5-2620v3 1P 16GB-R P440ar 8SFF 500W PS Base Server (752687-291)
HPE ProLiant DL380 Gen9 E5-2620v4 1P 16GB-R P440ar 8SFF 500W PS Server/S-Buy (867448-S01)
HPE ProLiant DL120 Gen9 E5-2603v4 8GB-R B140i 4LFF SATA 550W PS Server/GO (839302-425)
HPE ProLiant DL360 Gen10 4116 85W 1P 16G-2R P408i-a 8SFF 1x500W Server/Promo (875847-295)
HPE ProLiant DL160 Gen9 E5-2609v4 1P 8GB-R H240 8SFF 900W PS Server/S-Buy (867445-S01)
HPE ProLiant DL560 Gen9 E5-4640v4 4P 128GB-R P840/4GB 16SFF 2x1200W RPS Perf Server (830073-AA1)
HPE ProLiant ML110 Gen9 E5-2620v4 8GB-R B140i 4LFF 350W PS Base Server (838503-AA1)
HPE ProLiant DL360 Gen9 E5-2603v3 1P 8GB-R H240ar 8SFF 500W PS Entry SAS Server (755261-B21)
HPE ProLiant DL380 Gen9 E5-2690v3 2P 32GB-R P440ar 8SFF 2x10Gb 2x800W High Perf Server (803860-291)
HPE ProLiant ML150 Gen9 E5-2609v4 16GB-R H240 4LFF 900W PS Svr/Promo (860121-375)
HPE ProLiant DL360 Gen9 E5-2620v4 1P 16GB-R P440ar 8SFF 500W PS Server/S-Buy (867447-S01)
HPE ProLiant DL360 Gen9 Special Server (H9Q51A)
HPE ProLiant ML110 Gen9 E5-2603v4 8GB-R B140i 4LFF 1x2TB 550W PS Server/S-Buy (840668-S05)
HPE ProLiant DL360 Gen10 4114 85W 1P 32G-2R P408i-a 8SFF 2x500W Server/Promo (875846-375)
HPE ProLiant MicroServer Gen10 X3421 8GB-U 1TB 4LFF NHP SATA 200W PS Server/S-Buy (878487-S01)
HPE ProLiant DL560 Gen9 E5-4640v4 2P 32GB-R P440ar/2G 8SFF 2x1200W RPS Server (830080-AA5)
HPE ProLiant DL380 Gen9 E5-2650v4 2P 32GB-R P440ar 8SFF 2x10Gb 2x800W Perf Server (826684-291)
HPE ProLiant ML110 Gen10 4108 1P 16GB-R S100i 4LFF Hot Plug 550W PS Perf Server (P03686-S01)
HPE ProLiant DL380 Gen10 6126 1P 32GB-R P408i-a 8SFF 2x500W PS Server/S-Buy (875763-S01)
HPE ProLiant ML30 Gen9 E3-1240v6 1P 8GB-U B140i 4LFF SATA 460W RPS Perf Server (872659-AA1)
HPE ProLiant ML350 Gen10 4110 1P 16GB-R P408i-a 8SFF 1x800W RPS Base Server (877621-AA1)
HPE ProLiant DL360 Gen9 E5-2620v4 1P 8GB-R H240ar 8SFF 500W PS Server (844983-295)
HPE ProLiant ML350 Gen9 E5-2620v4 16GB-R P440ar 8SFF 500W PS Base Server (835263-AA1)
HPE ProLiant DL20 Gen9 4SFF Configure-to-order Server (819786-B21)
HPE ProLiant DL580 Gen10 6148 4P 128GB-R P408i-p 8SFF 4x1600W PS Base Server (869847-291)
HPE ProLiant MicroServer Gen10 X3421 1P 8GB-U 4LFF NHP SATA 200W PS Perf Server (Q8K22A)
HPE ProLiant ML110 Gen9 E5-2603v4 1.7GHz 6-core 8GB-R 4LFF 350W Server (P9V66A)
HPE ProLiant ML150 Gen9 E5-2620v4 16GB-R H240 Hot Plug 8SFF SAS 900W Perf Svr (834608-001)
HPE ProLiant ML110 Gen9 Hot Plug 4LFF Configure-to-order Server (776934-B21)
HPE ProLiant DL360 Gen9 E5-2620v3 1P 32GB-R P440ar 500W PS Base SAS Server (780415-AA5)
HPE StoreEasy 1450 4TB SATA Storage (K2R12A)
HPE ProLiant DL180 Gen9 E5-2603v4 8GB-R B140i 8LFF 550W PS Server/S-Buy (833981-S05)
HPE ProLiant DL380 Gen9 8SFF Configure-to-order Server (719064-B21)
HPE ProLiant ML350 Gen10 3104 1P 8GB-R S100i 4LFF NHP 500W PS Sub Entry SATA Server (877619-371)
HPE ProLiant DL385 Gen10 7451 1P 64GB-R P408i-a 8SFF SAS 2x800W PS Server/S-Buy (P00326-S01)
HPE ProLiant DL325 Gen10 7401P 1P 32GB-R P408i-a 8SFF 1x800W PS Performance Server (P04648-291)
HPE ProLiant DL360 Gen9 E5-2603v4 1P 8GB-R P440ar 8SFF 500W PS Server (844982-295)
HPE ProLiant ML150 Gen9 E5-2620v4 16GB-R H240 Hot Plug 8SFF SAS 900W Perf Svr (834608-421)
HPE ProLiant ML30 Gen9 E3-1230v6 1P 8GB-U B140i 4LFF 460W RPS DVD Perf Server (P03706-375)
HPE ProLiant DL360 Gen9 E5-2640v3 1P 8GB-R P440ar 500W PS Base SAS Server (780028-295)
HPE ProLiant DL380 Gen10 4114 1P 32GB-R P408i-a 8SFF 800W PS Performance Server (P06421-291)
HPE ProLiant DL180 Gen9 E5-2609v4 8GB-R B140i 8SFF 900W PS Server/Promo (833990-375)
HPE ProLiant ML30 Gen9 Hot Plug 4LFF Configure-to-order Server (823402-B21)
HPE ProLiant ML110 Gen10 4110 1P 16GB-R S100i 4LFF 1TB 350W PS Server/GO (880232-425)
HPE ProLiant DL380 Gen9 Special Server (M5S36A)
HPE ProLiant DL160 Gen9 E5-2603v4 1P 8GB-R B140i 4LFF 550W PS Server/S-Buy (830578-S05)
HPE ProLiant ML110 Gen9 E5-1620v4 8GB-R B140i 4LFF 1x1TB 550W PS Server/TV (840673-035)
HPE ProLiant ML110 Gen10 4110 1P 16GB-R 8SFF 800W RPS Solution Server (P03687-S01)
HPE ProLiant DL380 Gen9 E5-2609v3 1P 8GB-R B140i 8SFF SATA 500W PS Entry Server (752686-291)
HPE ProLiant ML350 Gen9 E5-2640v4 2.4 GHz 10-core 1P 32GB-R 500W RPS Server/TV (Q0P28A)
HPE ProLiant DL360 Gen9 E5-2660v4 2P 64GB-R P440ar 8SFF 800W RPS Perf2 SAS Server (851937-291)
HPE ProLiant DL120 Gen9 E5-2603v4 8GB-R B140i 4LFF SATA 550W PS Entry Server (830011-AA1)
HPE ProLiant DL360 Gen10 4108 96W 1P 16G-2R P408i-a 8SFF 1x500W PS Server (Q8T70A)
HPE ProLiant DL560 Gen10 5120 2P 32GB-R S100i 8SFF 1x1600W PS Entry Server (840369-AA1)
HPE ProLiant DL560 Gen9 E5-4620v3 1P 16GB-R P440ar/2GB 8SFF 2x1200W RPS Server/Promo (742256-AA5)
HPE ProLiant ML150 Gen9 E5-2609v4 8GB B140i 550W Hot Plug 4LFF SATA Svr/S-Buy (834616-S01)
HPE ProLiant DL360 Gen10 3106 85W 1P 16G-2R S100i 8SFF 1x500W Entry Server (867961-291)
HPE ProLiant ML350 Gen10 3106 1P 16GB-R S100i 4LFF 1x500W RPS Entry SATA Server (877620-001)
HPE ProLiant DL560 Gen9 E5-4640v4 4P 128GB-R P840/4GB 16SFF 2x1200W RPS Perf Server (830073-291)
HPE ProLiant DL380 Gen10 3106 1P 16GB-R S100i 8LFF 500W PS Entry SATA Server (868709-291)
HPE ProLiant DL360 Gen9 E5-2640v4 1P 16GB-R P440ar 8SFF 500W PS Base Server (848736-B21)
HPE ProLiant ML150 Gen9 E5-2609v4 8GB-R B140i Hot Plug 4LFF SATA 550W Base Svr (834607-031)
HPE ProLiant MicroServer Gen10 X3216 1P 8GB-U 4LFF NHP SATA 200W PS Entry Server (873830-291)
HPE ProLiant ML110 Gen10 3104 1P 16GB-R S100i 4LFF NHP 2TB 550W PS Server/Promo (880646-001)
HPE ProLiant DL380 Gen10 4110 1P 16GB-R P408i-a 8SFF 500W RPS Solution Server (P05524-291)
HPE ProLiant DL380 Gen9 E5-2630v4 1P 16GB-R P440ar 8SFF 500W PS Base Server (848774-B21)
HPE ProLiant DL180 Gen9 Hot Plug 8LFF Configure-to-order Server (754524-B21)
HPE ProLiant DL120 Gen9 8SFF Configure-to-order Server (777426-B21)
HPE ProLiant ML30 Gen9 E3-1220v6 8GB-U B140i 4LFF 350W PS 2TB Server/TV (873232-425)
HPE ProLiant DL380 Gen9 E5-2640v4 2.4 GHz 10-core 1P 32GB-R 500W RPS Server/TV (Q0P27A)
HPE ProLiant ML350 Gen9 E5-2620v4 1P 8GB-R P440ar 8SFF 800W PS ES Server/Promo (835858-295)
HPE ProLiant ML350 Gen10 4110 1P 16GB-R P408i-a 8SFF 1x800W RPS Base Server (877621-371)
HPE ProLiant DL20 Gen9 E3-1240v6 16GB-U H240 4SFF 900W RPS Performance Server (871431-B21)
HPE ProLiant DL560 Gen9 E5-4610v4 1P 16GB-R P440ar/2G 8SFF 1200W PS Server (830078-AA5)
HPE ProLiant DL380 Gen9 Special Server (P1N16C)
HPE ProLiant DL180 Gen9 E5-2620v4 16GB-R H240 8SFF 900W PS Server/Promo (833994-AA5)
HPE ProLiant DL180 Gen9 E5-2609v4 8GB-R H240 8LFF 550W PS Base Server (833972-AA1)
HPE ProLiant DL120 Gen9 Non-hot Plug 4LFF Configure-to-order Server (777428-B21)
HPE ProLiant ML350 Gen10 3104 1P 8GB-R S100i 4LFF NHP 500W PS Sub Entry SATA Server (877619-291)
HPE ProLiant ML350 Gen10 3104 1P 8GB-R S100i 4LFF NHP 500W PS Sub Entry SATA Server (877619-001)
HPE ProLiant ML150 Gen9 E5-2609v4 8GB-R B140i Hot Plug 4LFF SATA 550W Base Svr (834607-AA1)
HPE ProLiant DL380 Gen9 E5-2690v3 2P 32GB-R P440ar 8SFF 2x10Gb 2x800W OneView Server (803861-B21)
HPE ProLiant ML110 Gen10 3104 1P 8GB-R S100i 4LFF NHP 1TB 350W PS Server/Promo (880647-375)
HPE ProLiant DL120 Gen9 E5-1603v4 1P 8GB-R 4LFF B140i/ZM RPS Server (Q0J79A)
HPE ProLiant DL360 Gen10 4114 85W 1P 32G-2R P408i-a 8SFF 2x300G HDD 2x500W Server/GO (876100-425)
HPE ProLiant DL360 Gen9 E5-2643v4 1P 32GB-R P440ar 8SFF 2x500W PS SAS Server/S-Buy (850365-S01)
HPE ProLiant ML110 Gen9 E5-2603v4 1P 8GB-R B140i 8SFF 1x1TB 550W PS Server/S-Buy (840665-S01)
HPE ProLiant DL380 Gen10 4114 96W 2P 16G-2R P408i-a 8SFF 1x500W PS Server (Q8T92A)
HPE ProLiant DL120 Gen9 E5-1620v4 8GB-R B140i 4LFF SATA 900W PS Server/Promo (844188-375)
HPE ProLiant DL360 Gen9 E5-2609v3 1P 16GB-R P440ar 500W PS Entry SAS Server (780414-AA5)
HPE ProLiant ML110 Gen9 E5-2620v4 8GB-R B140i 4LFF 350W PS Base Server (838503-291)
HPE ProLiant DL360 Gen10 6142 96W 1P 16G-2R P408i-a 8SFF 1x800W PS Server (Q8T68A)
HPE ProLiant DL20 Gen9 E3-1220v6 16GB-U B140i 2LFF Non-hot Plug 290W PS Server/GO (872873-425)
HPE ProLiant DL560 Gen9 E5-4655v4 2P 64GB-R P440ar/2G 8SFF 2x1200W RPS Server/S-Buy (830077-S01)
HPE ProLiant ML350 Gen9 E5-2640v4 1P 16GB-R P440ar 8SFF 2x800W PS Server/S-Buy (835852-S01)
HPE ProLiant DL380 Gen9 E5-2690v4 2.6GHz 14-core 16GB-R P440ar 8SFF 800W Server (P9V60A)
HPE ProLiant ML30 Gen9 E3-1220v6 1P 8GB-U B140i 4LFF SATA 350W PS Base Server (872658-031)
HPE ProLiant DL380 Gen9 E5-2620v3 2.4GHz 6-core 1P 16GB-R P840/4GB 12LFF 2x800W PS Base Server (752688-291)
HPE ProLiant DL380 Gen10 4116 1P 16GB-R P408i-a 8SFF 2x500W PS Server/Promo (875767-375)
HPE ProLiant DL360 Gen9 E5-2603v4 1P 8GB-R P440ar 8SFF 500W PS Server (844982-375)
HPE ProLiant ML350 Gen9 E5-2609v4 1P 8GB-R P440ar 8LFF 800W PS ES Server/Promo (845159-295)
HPE ProLiant DL360 Gen10 4114 85W 1P 16G-2R P408i-a 8SFF 1x500W Base Server (867962-AA1)
HPE ProLiant DL580 Gen10 6126 2P 32GB-R P408i-p 8SFF 2x1600W PS Base Server (880396-AA1)
HPE StoreEasy 1650 48TB SAS Storage (K2R18A)
HPE ProLiant DL380 Gen9 E5-2630v4 1P 8GB-R P440ar 8SFF 500W PS Server (845806-375)
HPE ProLiant DL180 Gen9 Hot Plug 8SFF Configure-to-order Server (754523-B21)
HPE ProLiant ML30 Gen9 E3-1240v6 1P 16GB-U 8SFF 460W RPS Solution Server (P03707-S01)
HPE ProLiant DL560 Gen9 E5-4610v3 2P 32GB-R B140i 8SFF SATA 1200W PS Entry Server (741064-B21)
HPE ProLiant DL360 Gen10 4110 85W 1P 32G-2R P408i-a 8SFF 1x500W Server (875841-S05)
HPE ProLiant DL360 Gen9 E5-2603v4 1P 8GB-R H240ar 8SFF 500W PS Entry SAS Server (818207-B21)
HPE ProLiant DL120 Gen9 E5-2630v4 8GB-R H240 8SFF 550W PS Entry Server (833870-291)
HPE ProLiant DL380 Gen10 5120 2P 64GB-R P408i-a+Expander 24SFF 2x800W PS Server (875774-S05)
HPE ProLiant MicroServer Gen10 X3421 8GB-U 4x1TB NHP SATA 200W PS Server/S-Buy (878488-S01)
HPE ProLiant MicroServer Gen10 X3418 1P 8GB-U 4LFF NHP 200W PS Perf Server (P07203-421)
HPE ProLiant DL180 Gen9 E5-2603v4 8GB-R B140i 4LFF NHP 550W PS Entry Server (833970-291)
HPE ProLiant DL120 Gen9 E5-2603v4 8GB-R B140i 4LFF SATA 550W PS Entry Server (830011-291)
HPE ProLiant ML110 Gen9 E5-1620v4 8GB-R B140i 4LFF 1x1TB 550W PS Server/TV (840673-425)
HPE ProLiant ML110 Gen10 4108 1P 8GB-R 4LFF 350W PS Server (Q9G55A)
HPE ProLiant DL380 Gen9 NVMe 6 Solid State Drive Express Bay Configure-to-order Server (810393-B21)
HPE ProLiant ML110 Gen9 E5-2603v4 8GB-R B140i 4LFF 750W PS Server/Promo (840679-295)
HPE ProLiant DL380 Gen9 E5-2620v3 1P 16GB-R SAS 900GB 500W RPS Server/GO (K8P42A)
HPE ProLiant ML30 Gen9 E3-1220v6 1P 8GB-U B140i 4LFF NHP 350W PS Entry Server (P03704-S01)
HPE StoreEasy 1450 WSS2016 Storage (Q0F47A)
HPE ProLiant DL325 Gen10 7251 1P 8GB-R E208i-a 4LFF 500W PS Entry Server (P04646-AA1)
HPE ProLiant DL360 Gen9 E5-2620v4 1P 8GB-R H240ar 8SFF 500W PS Server (844983-375)
HPE ProLiant ML350 Gen9 E5-2620v4 1P 16GB-R P440ar 8SFF 2x300GB 500W PS Server/GO (835848-425)
HPE ProLiant DL360 Gen10 6130 125W 2P 64G-2R P408i-a Premium 10NVMe 2x800W Hi-Perf Svr (879991-AA1)
HPE ProLiant ML30 Gen9 E3-1220v6 1P 8GB-U B140i 4LFF SATA 350W PS Base Server (872658-AA1)
HPE ProLiant DL380 Gen10 6130 1P 64GB-R P408i-a 8SFF 800W RPS Performance Server (P06423-291)
HPE ProLiant ML350 Gen9 E5-2650v4 1P 8GB-R P440ar 8SFF 800W PS ES Server/Promo (835862-295)
HPE ProLiant DL380 Gen10 5118 2P 64GB-R P408i-a 8SFF 2x800W PS Performance Server (826566-291)
HPE ProLiant ML110 Gen10 3104 1P 8GB-R S100i 4LFF NHP SATA 350W PS Entry Server (878450-371)
HPE ProLiant DL385 Gen10 7301 1P 32GB-R P408i-a 8SFF SAS 500W PS Base Server (878718-291)
HPE ProLiant DL380 Gen9 E5-2667v4 1P 32GB-R P440ar 8SFF 2x500W PS Server/SB (850520-S01)
HPE ProLiant ML150 Gen9 E5-2620v4 8GB B140i 550W Hot Plug 4LFF SATA Svr/Promo (834622-295)
HPE ProLiant DL160 Gen9 Non-hot Plug 4LFF Configure-to-order Server (754522-B21)
HPE ProLiant DL120 Gen9 E5-1620v4 8GB-R B140i 4LFF SATA 900W PS Server/Promo (844187-295)
HPE ProLiant DL360 Gen10 4110 85W 1P 32G-2R P408i-a 8SFF 1x500W Server (875843-005)
HPE ProLiant DL360 Gen9 E5-2620v4 1P 8GB-R P440ar 8SFF 500W PS Server (844984-375)
HPE ProLiant ML350 Gen9 E5-2620v4 1P 8GB-R P440ar 8SFF 500W PS Server/S-Buy (835853-S05)
HPE ProLiant DL380 Gen10 4112 1P 16GB-R P408i-a 8LFF 1x500W PS Server/S-Buy (875759-S01)
HPE ProLiant DL20 Gen9 E3-1220v6 8GB-U B140i 2LFF 290W PS DVD-RW Server/S-Buy (872868-S05)
HPE ProLiant DL385 Gen10 7251 1P 16GB-R P408i-a 8SFF SATA 500W PS Server (P00327-295)
HPE ProLiant ML350 Gen9 2xE5-2630v4 2P 32GB-R P440ar 8SFF 2x800W PS Perf ES Rack Server (835264-031)
HPE ProLiant DL180 Gen9 Non-hot Plug LFF Configure-to-order Server (754525-B21)
HPE ProLiant ML150 Gen9 E5-2603v4 1.7GHz 6-core 8GB-R H240 8SFF 900W Server (P9V68A)
HPE ProLiant ML30 Gen9 E3-1220v6 1P 8GB-U B140i 4LFF SATA 350W PS Base Server (872658-421)
HPE ProLiant DL60 Gen9 E5-2603v4 8GB-R B140i 4LFF SATA 550W PS Server/GO (840622-425)
HPE ProLiant DL360 Gen9 E5-2640v4 1P 8GB-R P440ar 8SFF 500W PS Server (844985-375)
HPE DL160 Gen9 E5-2620v4 1P 16GB-R H240 8SFF 550W PS Base Server (830572-B21)
HPE ProLiant DL560 Gen10 6148 4P 128GB-R P408i-a 8SFF 2x1600W PS Base Server (840370-291)
HPE ProLiant ML110 Gen9 E5-1603 v4 1P 8GB-R 4LFF 550W PS Server (Q0J61A)
HPE ProLiant DL360 Gen10 6130 1P 64GB-R P408i-a 8SFF 800W RPS Performance Server (P06455-291)
HPE ProLiant ML110 Gen9 E5-2603v4 8GB-R B140i 4LFF NHP 350W PS Entry Server (838502-421)
HPE ProLiant ML350 Gen10 4114 2P 32GB-R P408i-a 8SFF 2x800W RPS Perf Rack Server (877622-031)
HPE ProLiant ML110 Gen10 4112 1P 8GB-R 4LFF 500W PS Server (Q9G58A)
HPE ProLiant DL120 Gen9 E5-1603v4 1P 8GB-R 8SFF B140i/ZM RPS Server (Q0J80A)
HPE ProLiant ML110 Gen9 Special Server (Q0C08B)
HPE ProLiant DL360 Gen9 E5-2603v3 1P 8GB-R B140i 8SFF 500W PS Entry SATA Server (755260-291)
HPE ProLiant MicroServer Gen10 X3418 1P 8GB-U 4LFF NHP 200W PS Perf Server (P07203-375)
HPE ProLiant DL180 Gen9 E5-2623v4 16GB-R P840 12LFF 900W PS Server (833974-291)
HPE ProLiant DL560 Gen10 6148 4P 128GB-R P408i-a 8SFF 2x1600W PS Base Server (840370-AA1)
HPE ProLiant DL20 Gen9 E3-1220v6 8GB-U B140i 2LFF 290W PS 1TB HDD DVD-RW Svr/Promo (872875-375)
HPE ProLiant DL560 Gen9 E5-4640v3 1P 32GB-R P440ar/2GB 8SFF 2x1200W RPS Server/Promo (742257-AA5)
HPE ProLiant DL360 Gen9 E5-2640v4 1P 16GB-R P440ar 8SFF 500W PS Server/S-Buy (867446-S01)
HPE ProLiant DL380 Gen9 E5-2609v4 1P 8GB-R B140i 8SFF 500W PS Entry SATA Server (826681-B21)
HPE ProLiant DL380 Gen9 E5-2620v4 1P 16GB-R P440ar 8SFF 500W PS Base Server (826682-B21)
HPE ProLiant ML30 Gen9 E3-1220v6 1P 8GB-U B140i 4LFF NHP 350W PS Entry Server (P03704-375)
HPE ProLiant DL360 Gen9 E5-2697v4 1P 32GB-R P440ar 8SFF 2x500W Server/S-Buy (861540-S01)
HPE ProLiant DL360 Gen10 4110 85W 1P 16G-2R P408i-a 8SFF 1x500W Server/S-Buy (874457-S01)
HPE ProLiant ML110 Gen9 E5-2603v4 8GB-R B140i 4LFF NHP 350W PS Entry Server (838502-001)
HPE ProLiant DL388 Gen9 E5-2630v3 1P 32GB-R P440ar 8SFF 500W PS Server (827008-AA1)
HPE ProLiant ML110 Gen10 3104 1P 8GB-R S100i 4LFF NHP 550W PS Server/S-Buy (880227-S01)
HPE ProLiant DL560 Gen9 E5-4610v4 2P 32GB-R B140i 8SFF SATA 1200W PS Entry Server (830071-B21)
HPE ProLiant DL20 Gen9 E3-1240v6 16GB-U H240 4SFF 290W PS Performance Server (871430-291)
HPE ProLiant DL360 Gen9 E5-2650v4 2P 32GB-R P440ar 8SFF 800W RPS Perf SAS Server (818209-AA1)
HPE ProLiant DL160 Gen9 E5-2630v4 1P 8GB-R B140i 8SFF 1x900W PS Server/Promo (848825-295)
HPE ProLiant ML350 Gen10 4114 2P 32GB-R P408i-a 8SFF 2x800W RPS Perf Rack Server (877622-001)
HPE ProLiant ML150 Gen9 E5-2603v4 8GB B140i 550W Hot Plug 4LFF SATA Svr/TV (860122-035)
HPE ProLiant DL360 Gen10 6154 96W 1P 16G-2R P408i-a 8SFF 1x800W PS Server (Q8T69A)
HPE ProLiant ML110 Gen9 E5-2620v4 8GB-R B140i 4LFF 350W PS Base Server (838503-421)
HPE ProLiant DL380 Gen10 6134 96W 2P 16G-2R P408i-a 8SFF 1x800W PS Server (Q8T88A)
HPE ProLiant DL580 Gen10 6130 2P 64GB-R P408i-p 8SFF 2x1600W PS Base Server (869851-AA1)
HPE StoreEasy 1550 Storage (K2R62A)
HPE ProLiant DL180 Gen9 E5-2630v4 8GB-R B140i 8SFF 900W PS Server/Promo (833991-295)
HPE ProLiant DL20 Gen9 G4400 3.3 GHz 2-core 1P 8GB-U 290W PS Server/GO (P9H93A)
HPE ProLiant DL20 Gen9 E3-1240v6 8GB-U B140i 2LFF 290W PS Server/S-Buy (873559-001)
HPE ProLiant ML30 Gen9 E3-1220v6 8GB-U B140i 8SFF 460W Server/Promo (873234-295)
HPE ProLiant DL360 Gen10 4110 85W 1P 16G-2R P408i-a 8SFF 1x500W Server/TV (875838-425)
HPE ProLiant DL360 Gen9 E5-2620v3 1P 16GB-R 500W RPS Server/GO (K8N32A)
HPE ProLiant ML110 Gen9 E5-2620v4 8GB-R B140i 4LFF 350W PS Base Server (838503-031)
HPE ProLiant DL560 Gen10 5120 2P 32GB-R S100i 8SFF 1x1600W PS Entry Server (840369-291)
HPE ProLiant DL385 Gen10 7251 1P 32GB-R P816i-a 12LFF SATA 800W PS Base Server (878716-291)
HPE ProLiant DL560 Gen9 E5-4640v3 4P 128GB-R P840/4GB 16SFF 2x1200W RPS Perf Server (741066-AA1)
HPE ProLiant ML350 Gen9 E5-2620v4 1P 16GB-R P440ar 8LFF 500W PS Server/Promo (835856-AA5)
HPE ProLiant DL360 Gen9 E5-2620v4 2P 16GB-R P440ar 8SFF 500W PS Server/GO (843375-425)
HPE ProLiant ML350 Gen10 3106 1P 8GB-R S100i 4LFF 500W PS Server/Promo (879819-375)
HPE ProLiant DL360 Gen10 4116 85W 1P 16G-2R P408i-a 8SFF 1x500W Server/Promo (875847-375)
HPE ProLiant DL360 Gen10 4110 85W 1P 16G-2R P408i-a 8SFF 1x500W Server/Promo (875845-295)
HPE ProLiant DL360 Gen9 E5-2670v3 2P 64GB P440ar 8SFF 2x10Gb-T 2x800W OneView Server (795236-B21)
HPE ProLiant DL180 Gen9 E5-2609v4 8GB-R H240 8LFF 550W PS Base Server (833972-B21)
HPE ProLiant DL388 Gen9 E5-2620v3 1P 16GB-R P440ar 8SFF 500W PS Server (827007-AA1)